Background
The upstream oil and gas industry has faced numerous challenges, including declining oil prices, increased regulatory pressure, and growing concerns over the environmental impact of fossil fuels. These challenges have forced industry player to focus on cost-cutting measures, exploring alternative energy sources, and investing in new technologies.
Our client is one of the world's leading oil and gas companies, vertically integrated and operating in all areas of oil and gas, including upstream, refining, distribution and marketing, petrochemicals, power generation and trading. This project that we're focusing in this case study involves the client's portfolio located in the Gulf of Mexico, which includes four offshore platforms and four other hubs operated by other companies.
This situation was unique, as we were brought into a project that was already underway prior to our involvement. The plan was to listen, identify and invest, to remove pain and deliver improvement to both offshore and onshore resources and supporting processes.
To that end, the client had already organised 55 cross-functional workshops to gather feedback from the target audience. From these workshops, the client's team fashioned a collection of 42 value statements.
This is where we came in.
Analysis
We began our work with an offshore "Go See and Access," (GSaA) collecting Day in the Life Observations (DILOs) on offshore leadership and technicians. We deployed teams of 2 consultants for two weeks and collected 91 DILOs (over 75,000 minutes of resources time).
The DILO-consolidated results indicated an initial NVA (non-value adding) time of 41%, BVA (business value adding) time of 34%, and VA (value adding) time of 25%.
The primary drivers of NVA were:
Resources were available for work but not assigned to work which could be completed
Delays driven by control of work issues
Lack of required information
Lack of tools and rework
Additionally, the efficiency and effectiveness of meetings contributed to a high BVA percentage that could also be shifted to VA activities.
After our offshore trip, we discovered the following areas of improvement:
Current work processes could be integrated (and deliver desired performance) when understood and followed
Leaders were stuck in "capability traps"
The client didn't place enough importance on value front-end readiness
Leadership behaviours and actions must change to achieve technician effectiveness goals
Project Approach & Implementation
Following the results and findings of the GSaA analysis, we worked together with the client's team to develop this plan of action.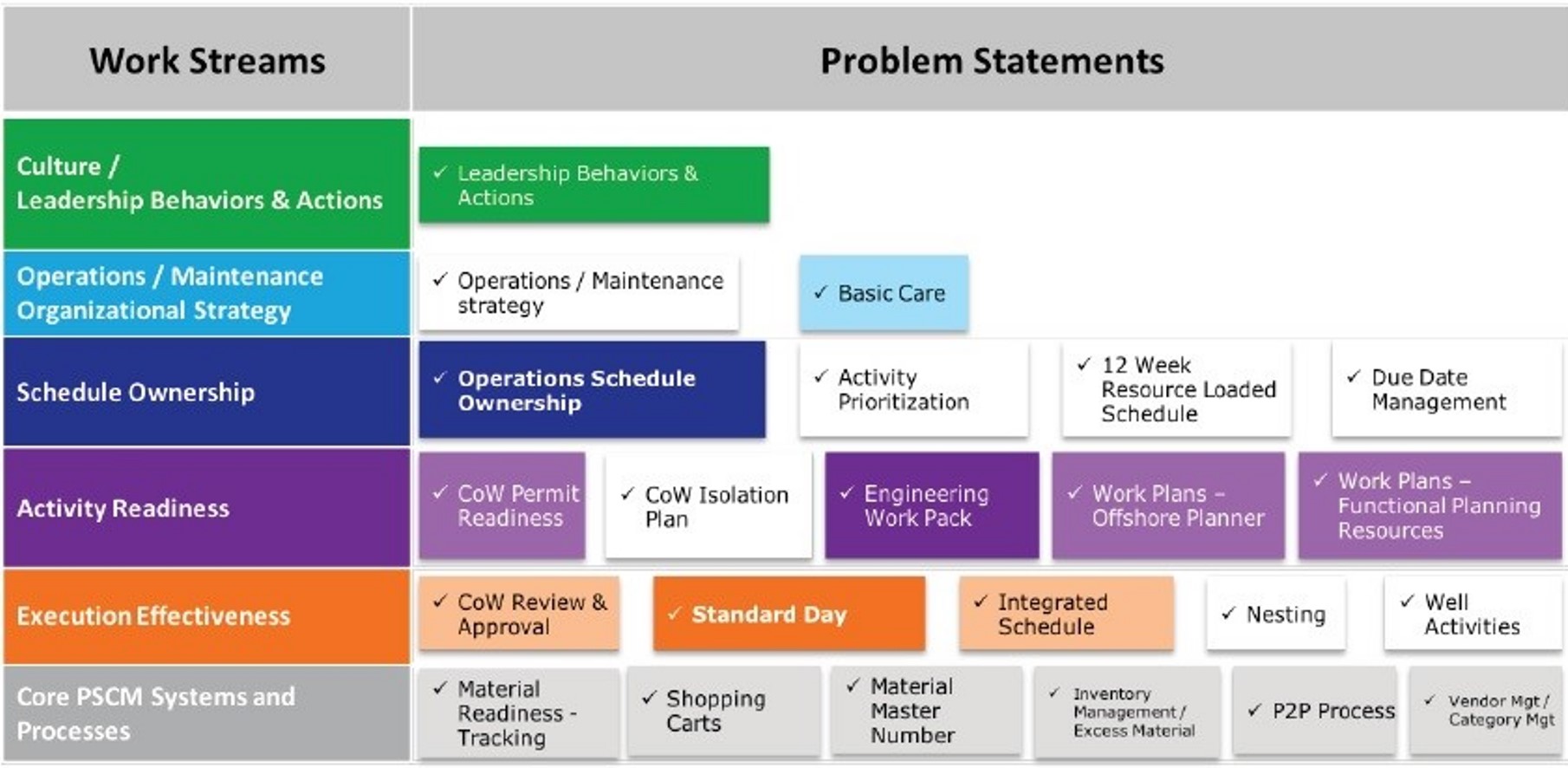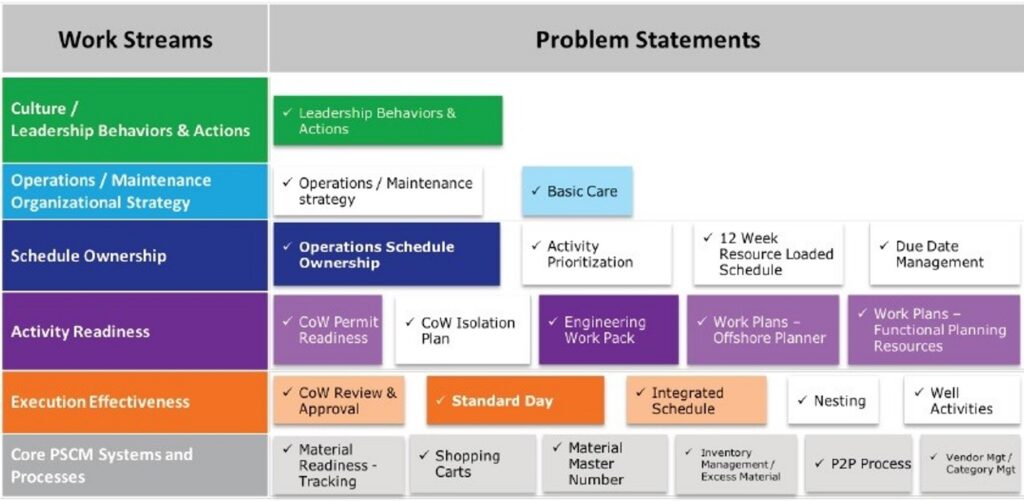 Given the scope of the roadmap and the limited availability of resources, the client decided to prioritise development of the three 'Big Rocks' — the areas where they would get the most bang for the buck. These 'Big Rocks' were Operational Schedule Ownership, Start of Day/End of Day and Leadership Behaviours and Actions.
Solution roll-out was handled by the client's 'Big Rock' team which performed the development of the given solution. Ultimately, only Operational Schedule Ownership and Start of Day/End of Day created solutions.
Operational Schedule Ownership created or modified several Terms of Reference (TORs) for schedule-oriented meetings. Adherence to the TORs drove efficiency, effectiveness, and number of meetings, while supporting the creation and execution of a stable and relevant schedule.
Start of Day/End of Day created the Standard Day Layout, earlier start time for all daily work resources, and a policy which restricted the contacting of offshore resources from onshore until after most resources were given assigned work.
Each platform was assigned an external coach to support the use of the deliverables. The coaches were initially instructed to provide passive and constrained coaching but switched to a more active method of coaching and corrective/instructive feedback as the program progressed. The coaches also assisted in implementing end-of-workday meetings, visual management boards, and issue identification and escalation meeting and tool usage.
Structured weekly root cause analyses and the subsequent management of actions were supported by training in FMEA, Ishikawa and 5 Whys. Assurance that actions resulted in the required operational impact was achieved through follow-up and formal auditing.
Results
The project aimed to add two hours of VA time per technician daily. After approximately 6 cycles of coaching, post implementation-DILOs were conducted on several of the offshore hubs.
After one year of implementation, the project achieved the following milestones:
While the project was underway, many business issues served as distractions and impacted the focus of the leadership team. Without a strong focus and a top prioritization, the project could not compete with daily operational necessities. Ultimately, the addition of the rollout of SAP and the blueprint led to a suspension of the project as it was originally structured.
Despite these operational bottleneck, the client was encouraged by the results to continue this project in accordance with new changes in its leadership and offshore prioritisation.