Back­ground
The upstream oil and gas indus­try has faced numer­ous chal­lenges, includ­ing declin­ing oil prices, increased reg­u­la­to­ry pres­sure, and grow­ing con­cerns over the envi­ron­men­tal impact of fos­sil fuels. These chal­lenges have forced indus­try play­er to focus on cost-cutting mea­sures, explor­ing alter­na­tive ener­gy sources, and invest­ing in new technologies.
Our client is one of the world's lead­ing oil and gas com­pa­nies, ver­ti­cal­ly inte­grat­ed and oper­at­ing in all areas of oil and gas, includ­ing upstream, refin­ing, dis­tri­b­u­tion and mar­ket­ing, petro­chem­i­cals, pow­er gen­er­a­tion and trad­ing. This project that we're focus­ing in this case study involves the clien­t's port­fo­lio locat­ed in the Gulf of Mex­i­co, which includes four off­shore plat­forms and four oth­er hubs oper­at­ed by oth­er companies.
This sit­u­a­tion was unique, as we were brought into a project that was already under­way pri­or to our involve­ment. The plan was to lis­ten, iden­ti­fy and invest, to remove pain and deliv­er improve­ment to both off­shore and onshore resources and sup­port­ing processes.
To that end, the client had already organ­ised 55 cross-functional work­shops to gath­er feed­back from the tar­get audi­ence. From these work­shops, the clien­t's team fash­ioned a col­lec­tion of 42 val­ue statements.
This is where we came in.
Analy­sis
We began our work with an off­shore "Go See and Access," (GSaA) col­lect­ing Day in the Life Obser­va­tions (DILOs) on off­shore lead­er­ship and tech­ni­cians. We deployed teams of 2 con­sul­tants for two weeks and col­lect­ed 91 DILOs (over 75,000 min­utes of resources time).
The DILO-consolidated results indi­cat­ed an ini­tial NVA (non-value adding) time of 41%, BVA (busi­ness val­ue adding) time of 34%, and VA (val­ue adding) time of 25%.
The pri­ma­ry dri­vers of NVA were:
Resources were avail­able for work but not assigned to work which could be completed
Delays dri­ven by con­trol of work issues
Lack of required information
Lack of tools and rework
Addi­tion­al­ly, the effi­cien­cy and effec­tive­ness of meet­ings con­tributed to a high BVA per­cent­age that could also be shift­ed to VA activities.
After our off­shore trip, we dis­cov­ered the fol­low­ing areas of improvement:
Cur­rent work process­es could be inte­grat­ed (and deliv­er desired per­for­mance) when under­stood and followed
Lead­ers were stuck in "capa­bil­i­ty traps"
The client did­n't place enough impor­tance on val­ue front-end readiness
Lead­er­ship behav­iours and actions must change to achieve tech­ni­cian effec­tive­ness goals
Project Approach & Implementation
Fol­low­ing the results and find­ings of the GSaA analy­sis, we worked togeth­er with the clien­t's team to devel­op this plan of action.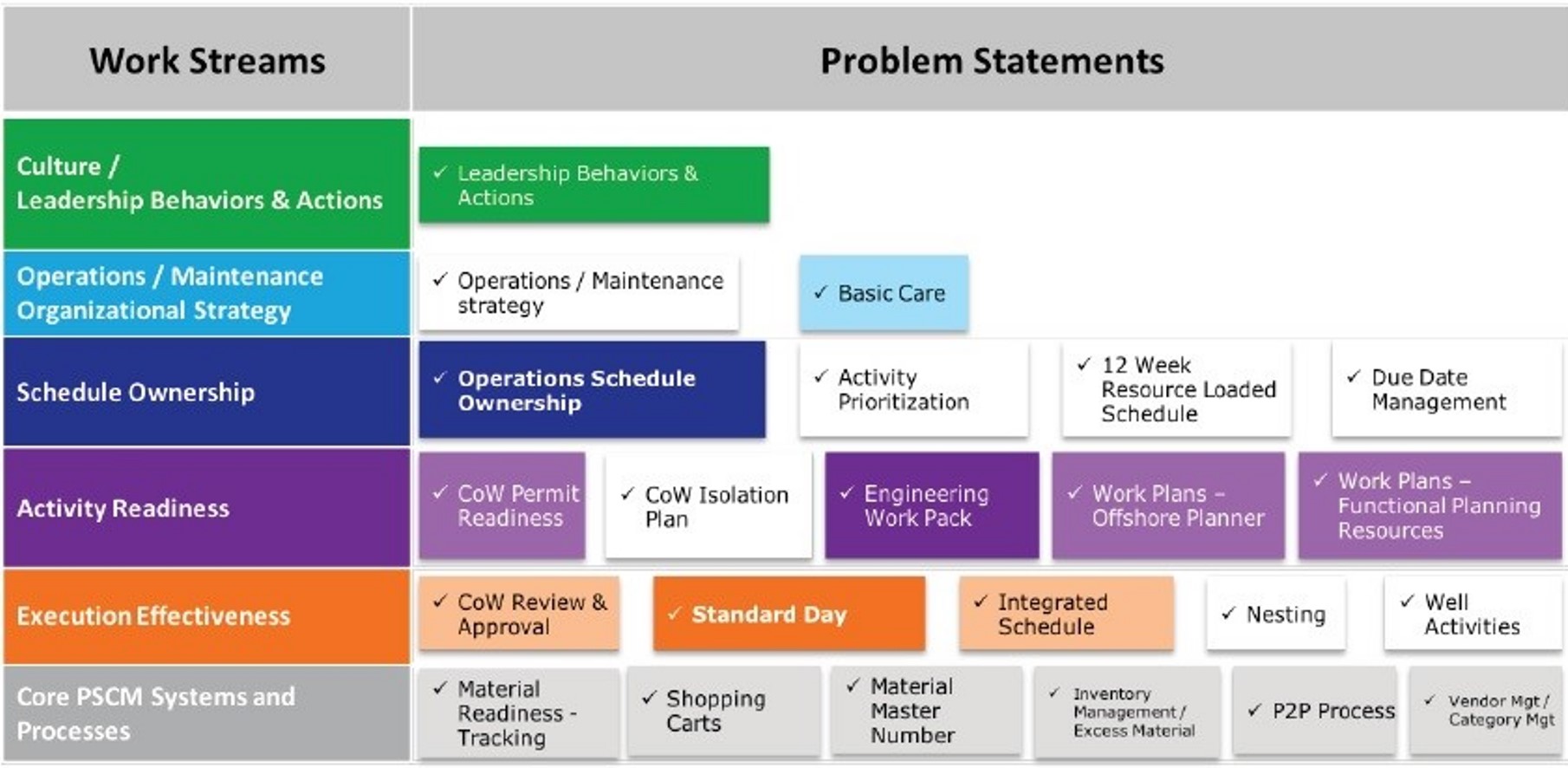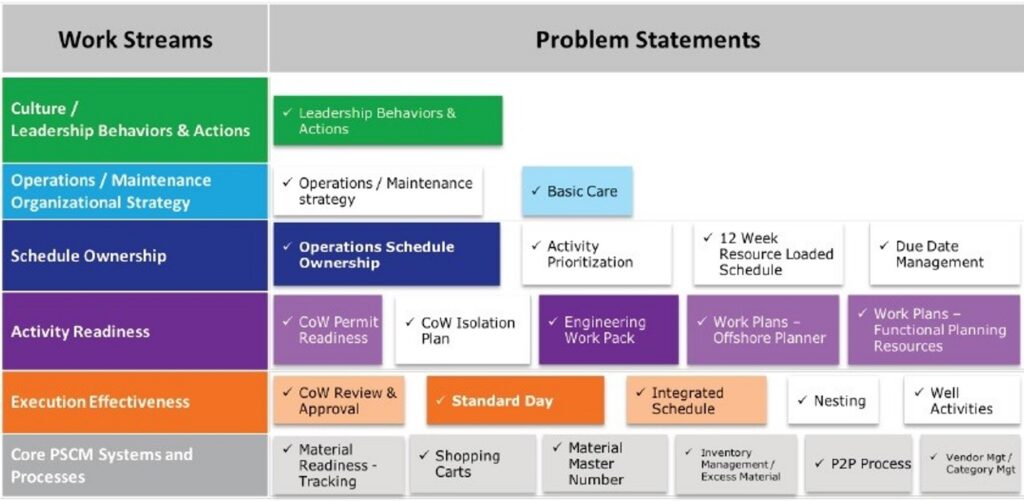 Giv­en the scope of the roadmap and the lim­it­ed avail­abil­i­ty of resources, the client decid­ed to pri­ori­tise devel­op­ment of the three 'Big Rocks' — the areas where they would get the most bang for the buck. These 'Big Rocks' were Oper­a­tional Sched­ule Own­er­ship, Start of Day/End of Day and Lead­er­ship Behav­iours and Actions.
Solu­tion roll-out was han­dled by the clien­t's 'Big Rock' team which per­formed the devel­op­ment of the giv­en solu­tion. Ulti­mate­ly, only Oper­a­tional Sched­ule Own­er­ship and Start of Day/End of Day cre­at­ed solutions.
Oper­a­tional Sched­ule Own­er­ship cre­at­ed or mod­i­fied sev­er­al Terms of Ref­er­ence (TORs) for schedule-oriented meet­ings. Adher­ence to the TORs drove effi­cien­cy, effec­tive­ness, and num­ber of meet­ings, while sup­port­ing the cre­ation and exe­cu­tion of a sta­ble and rel­e­vant schedule.
Start of Day/End of Day cre­at­ed the Stan­dard Day Lay­out, ear­li­er start time for all dai­ly work resources, and a pol­i­cy which restrict­ed the con­tact­ing of off­shore resources from onshore until after most resources were giv­en assigned work.
Each plat­form was assigned an exter­nal coach to sup­port the use of the deliv­er­ables. The coach­es were ini­tial­ly instruct­ed to pro­vide pas­sive and con­strained coach­ing but switched to a more active method of coach­ing and corrective/instructive feed­back as the pro­gram pro­gressed. The coach­es also assist­ed in imple­ment­ing end-of-workday meet­ings, visu­al man­age­ment boards, and issue iden­ti­fi­ca­tion and esca­la­tion meet­ing and tool usage.
Struc­tured week­ly root cause analy­ses and the sub­se­quent man­age­ment of actions were sup­port­ed by train­ing in FMEA, Ishikawa and 5 Whys. Assur­ance that actions result­ed in the required oper­a­tional impact was achieved through follow-up and for­mal auditing.
Results
The project aimed to add two hours of VA time per tech­ni­cian dai­ly. After approx­i­mate­ly 6 cycles of coach­ing, post implementation-DILOs were con­duct­ed on sev­er­al of the off­shore hubs.
After one year of imple­men­ta­tion, the project achieved the fol­low­ing milestones:
While the project was under­way, many busi­ness issues served as dis­trac­tions and impact­ed the focus of the lead­er­ship team. With­out a strong focus and a top pri­or­i­ti­za­tion, the project could not com­pete with dai­ly oper­a­tional neces­si­ties. Ulti­mate­ly, the addi­tion of the roll­out of SAP and the blue­print led to a sus­pen­sion of the project as it was orig­i­nal­ly structured.
Despite these oper­a­tional bot­tle­neck, the client was encour­aged by the results to con­tin­ue this project in accor­dance with new changes in its lead­er­ship and off­shore prioritisation.