At a Glance
Construction company improved direct labour productivity by 43.9%
Measured and tracked performance with Management Control Systems and dashboards
Successfully created a proactive, high-performance management culture
Background 
The client has a long history of successful construction projects in UAE and the Middle East, with its early days as a construction company primarily focused on civil and infrastructure works, some of which were considered landmark projects in UAE's development. Today, it continues to apply its substantial experience, knowledge and capabilities in major development projects across the UAE. 
The Challenge 
Several of the client's current construction projects had unproductive direct labour which was leading to those sites being over budget and behind schedule. Renoir was invited to participate in an initiative to improve the productivity of direct workers for one of the client's projects. 
Key Results  
By the end of the engagement, the following results were achieved: 
Project Approach
A project governance model was established with fortnightly steering committee meetings with the client's top management who provided strategic direction based on the project progress. Weekly on-site Management Action Team (MAT) meetings also took place with site management to review the previous week's progress and to agree on the corrective actions required and opportunities identified on the Productivity Dashboard.
"The level of detail required in the Daily Reporting assisted the team to manage the site more efficiently and thereby enabled them to focus on improvement in performance. The Daily and Weekly Planning empowered the Tower Managers and Site Engineers to think ahead and thereby envisage the problems hence ensuring corrective actions were taken proactively."
– Senior Project Manager
Implementation 
Renoir's Productivity Improvement Project with the client ran for a period of 50 weeks. To deliver the objectives of the programme, the following areas were addressed:   
1. Management Control Systems & Performance Management Dashboards 
Fit for purpose Management Control Systems and best practices were implemented which provided a detailed planning environment at the work front level. The systems covered short interval controls to improve efficiency of the direct labour workers. 
To ensure intervals were adhered to, performance management dashboards were developed to provide visibility of KPIs across the site. Through these dashboards, a performance overview was visible for all activities by trade and was reviewed regularly in Management Action Meetings. 
2. Work Front & Manpower Planning for Clear Communication of Deliverables 
Work Front Planning was installed which allowed the dissemination of plans by discipline to the point of execution via Site Engineers and Foremen. This provided a set of clear daily tracked deliverables, resulting in productive work areas.  
With clear requirements by worker per trade and requisition based on weekly forecast work volumes over a 6-week period, workers at every organisational level better understood their tasks and KPIs.
Prime your business processes for success with a Management Control System
3. Target Setting & A Corrective Action Plan
Relevant and realistic target rates were formulated, agreed upon and implemented. Performance was then measured against these rates to relate directly to the enhanced level of active supervision. A structured daily review mechanism at relevant levels was implemented to ensure that priorities were defined with clear targets.
Any variances to the plan were addressed by the Management Action Team through identifying corrective actions, thus fostering a continuous improvement and high-performance management culture.
4. Active Supervision & Communication Management
Active supervision that involved the close monitoring and supervision of Foremen and Charge Hands by Site Managers and Site Engineers. Training and coaching were provided by Renoir consultants that significantly improved supervision to drive a more productive work site.
Coordination and communication between different areas was also improved to achieve better alignment to construction priorities and optimise scarce resources, materials, equipment and skills. This greatly increased operational efficiency and ensured greater alignment.
Results
Over the project's course of 50 weeks, the results which stood out the most were as follows:
Vastly Improved Direct Labour Productivity
The improvement in direct labour productivity stood at 43.9% by the end of the engagement, with over AED 4.2 million in savings calculated before the end of the project.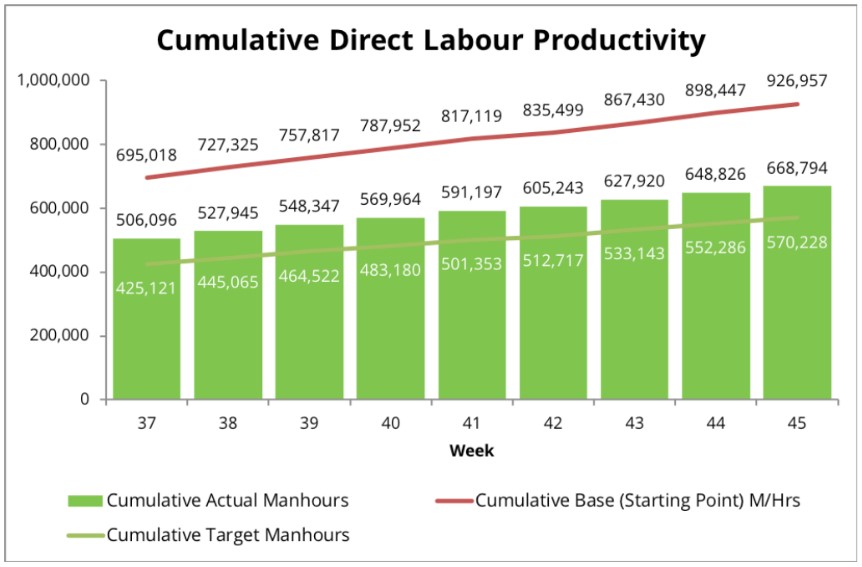 Healthy Competition & High-Performance Created by Performance Recognition & Incentives
By creating Foremen League tables, a performance recognition process to identify the best overall performances by foremen, the result was healthy competition and enthusiasm amongst workers.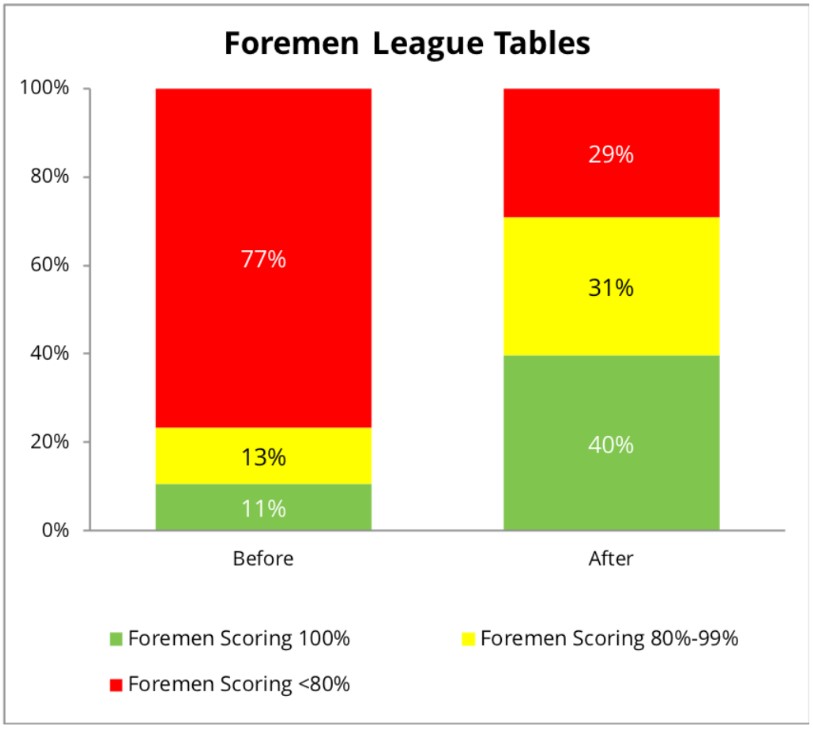 Each month the best performing foremen per trade per Site Manager received a bonus and the weekly Foremen League tables were pivotal to driving this behaviour change and creating the incentives needed. 
Improve on-site labour productivity through behavioural management, management controls & incentives.