At a Glance
Overall Equipment Effectiveness (OEE) is a powerful key performance metric in pursuit of operational excellence
OEE calculations are typically performed at the individual machine and line level, but they can also be used at the plant level to drive continuous improvement and align multiple sites towards shared business objectives
After identifying the root causes of OEE losses, companies can develop measurable solutions to improve overall operational performance and achieve their desired results
When pursuing operational excellence, a key performance indicator to take note of is the Overall Equipment Effectiveness (OEE). This powerful metric combines various aspects of market demand, maintenance performance, operational efficiency, and quality into an overall percentage measurement, to help identify sources of loss in your operations.  
OEE is primarily used to measure Total Productive Maintenance (TPM) and Lean Manufacturing programmes. For companies seeking to optimise productivity, OEE is a valuable tool for analysing productivity losses, which are classified into three main categories:  
Availability. This category evaluates the downtime loss caused by factors such as breaks, material shortages, line change overs, both planned and unplanned downtime.  
Performance. This can be defined as the loss of speed caused by machine slowdown, setup adjustments, and operator fatigue and inefficiency.  
Quality. This category focuses on losses due to scrapped or reworked product. 
This article explains why OEE is an essential metric for manufacturers looking to improve and implement targeted strategies to enhance their overall operational efficiency and quality.  
Benefits of OEE in manufacturing  
Improves equipment utilisation 
Improving your OEE metrics can bring significant benefits – leading to an average increase in equipment utilisation of 5% to 15%, according to the World Class Manufacturing (WCM) Institute. Implementing lean methodologies such as Single Minute Exchange of Die (SMED) can effectively boost the overall output of machinery.  
The improvement goes beyond numbers; it translates into a more efficient and productive operation. This means generating more value from your existing machinery, resulting in a higher return on investment (ROI). 
Reduces costs 
Achieving higher OEE levels reduces defects and bottlenecks, leading to decreased rework and scrap, lower warranty costs, and increased efficiency.  
The impact of these improvements on your bottom line can be substantial. Companies with an OEE above 85% can expect to save approximately US$1 million annually in expenses related to downtime, efficiency, and quality. In essence, prioritising OEE goes beyond enhancing operational efficiency. It drives profitability and financial success. 
Improves quality and reduces downtime 
OEE enables companies to identify the root causes of operational defects, which results in process improvement and defect reduction. The visibility of OEE metrics empowers employees with on-the-job coaching, leading to better work quality.  
Implementing lean production can lead to a significant reduction in defects. A study of a privately-owned dairy company in Semarang, Indonesia, found that high OEE resulted in a 41-minute overtime reduction and zero-minute packaging machine downtime. 
Continuous improvement 
Regularly monitoring OEE metrics can help you keep track of progress, set achievable targets, and identify areas for improvement. This is the essence of Business Continuous Improvement, a core principle of operational excellence.  
OEE calculations are typically performed at the individual machine and line level, but they can also be used at the plant level to drive continuous improvement and align multiple sites towards shared business objectives. OEE remains a top-three metric for manufacturers, according to a survey. 
Opportunities to Reduce OEE
Various factors contribute to OEE losses, due to lost production time (measured in hours) and lost production volume (measured in tonnes). A detailed analysis should be conducted after quantifying the total OEE losses. This analysis should evaluate the root causes of the production losses by categorising them in order of priority, including the ease, speed and benefits of rectification, and suitable measures to reduce these losses.
Here are the aspects that can be used to identify the root causes of OEE losses: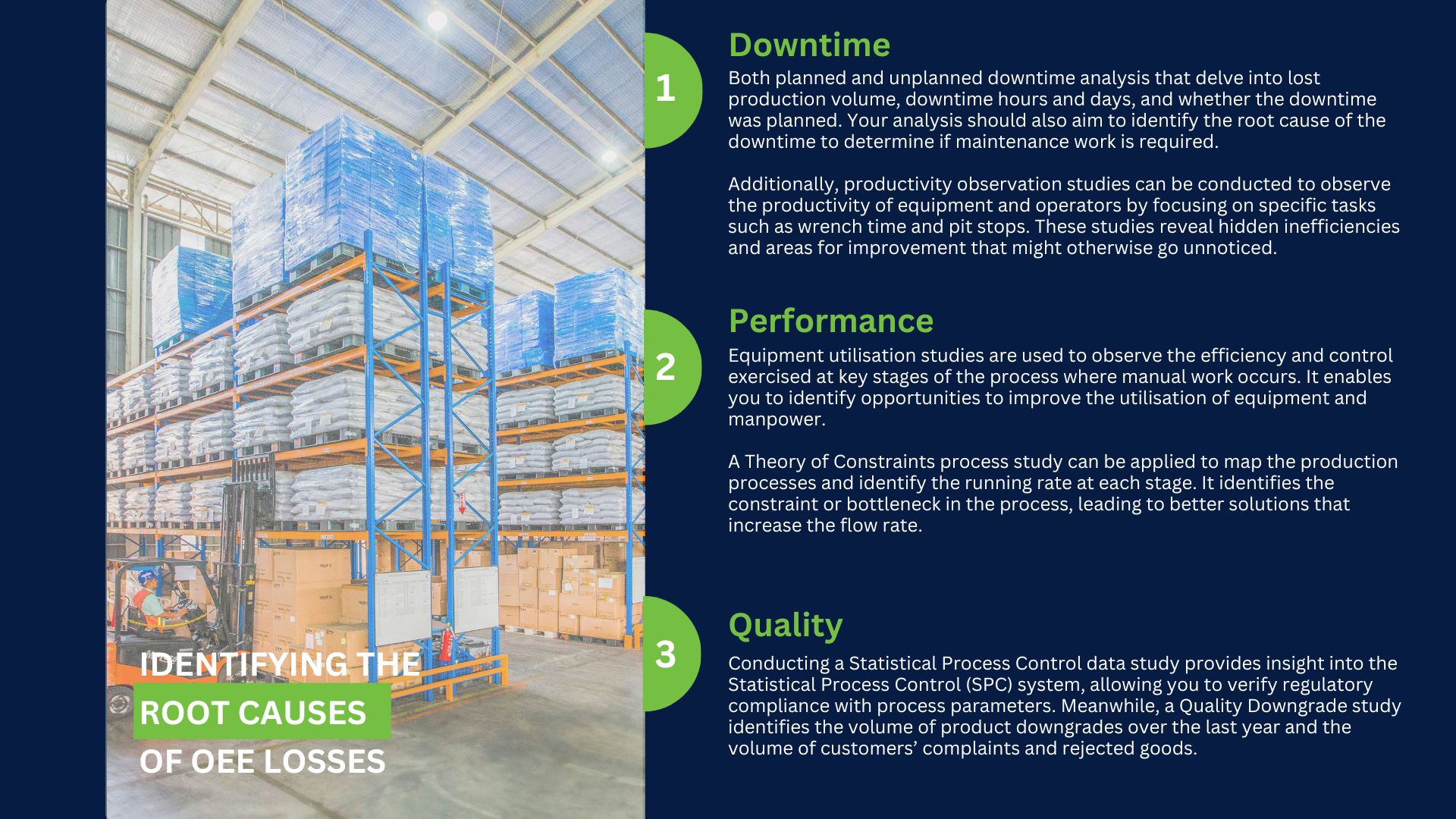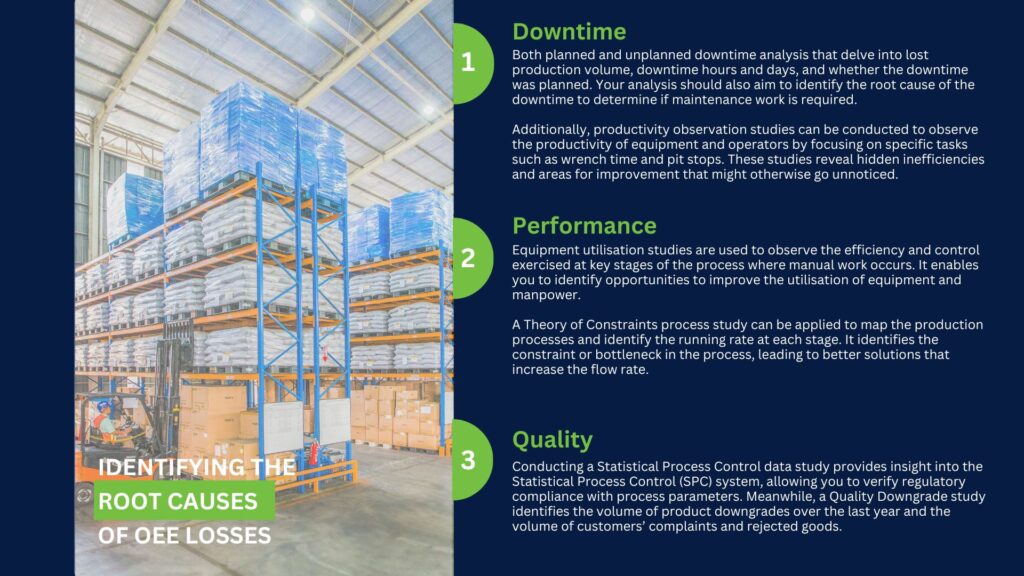 At the end of this exercise, you will be able to formulate measurable solutions to reduce OEE losses. Some of these actions are instrumental in boosting overall operational performance and achieving desired results:
Enhance plate throughput by implementing a production loss framework to increase transparency in OEE.
Reduce unplanned downtime by installing a maintenance planning and execution system. Simultaneously, introduce technician-based performance tracking to minimise unplanned downtime.
Encourage positive behaviours by conducting situational auditing to improve individual behaviours while enforcing compliance with existing systems and processes.
Optimise plant productivity by implementing a Maximum Sustainable Daily Rate (MSDR) and reviewing production transition planning.
Ready to kickstart your operational excellence initiatives?
Have you ever wondered if your business processes are operating at peak efficiency? If so, you are not alone. Many companies struggle to identify and optimise their processes.
That's where Renoir comes in. Our team of experienced subject matter experts can help you assess your current processes and identify areas for improvement. We will work closely with you to develop a plan to optimise your processes and provide ongoing support to help you implement the changes.
Ready to accelerate excellence in your operations?