At a Glance
Organisational effectiveness entails achieving goals efficiently and harmoniously within an organisation.
Implementing a lean office approach can enhance effectiveness by reducing costs, improving quality, minimising non-value-adding processes, and increasing satisfaction among customers and employees.
Lean office is one of many key components of organisational effectiveness.
Organisational effectiveness is the ability of an organisation to achieve its goals without overburdening employees or wasting resources. For an organisation to be effective, its internal units must work harmoniously. Processes should be seamless to reduce delays and unnecessary duplication.
A lean office can help make your organisation more effective. It is an approach that focuses on principles that:
Reduce costs
Improve quality
Minimise non-value-adding processes
Increase customer and employee satisfaction
Lean Office: Achieving more with less
A lean office is a systematic way of eliminating waste. It aims at ensuring that every effort adds value and serves the needs of customers. Through proven principles, which will be discussed in detail below, the approach helps a company fix inefficiencies and maximise organisational effectiveness.
Toyota was the first company to implement lean principles as a continuous improvement philosophy in the 1930s. Since then, lean principles have become a global phenomenon applied across different industries. At its core, lean is a philosophy about: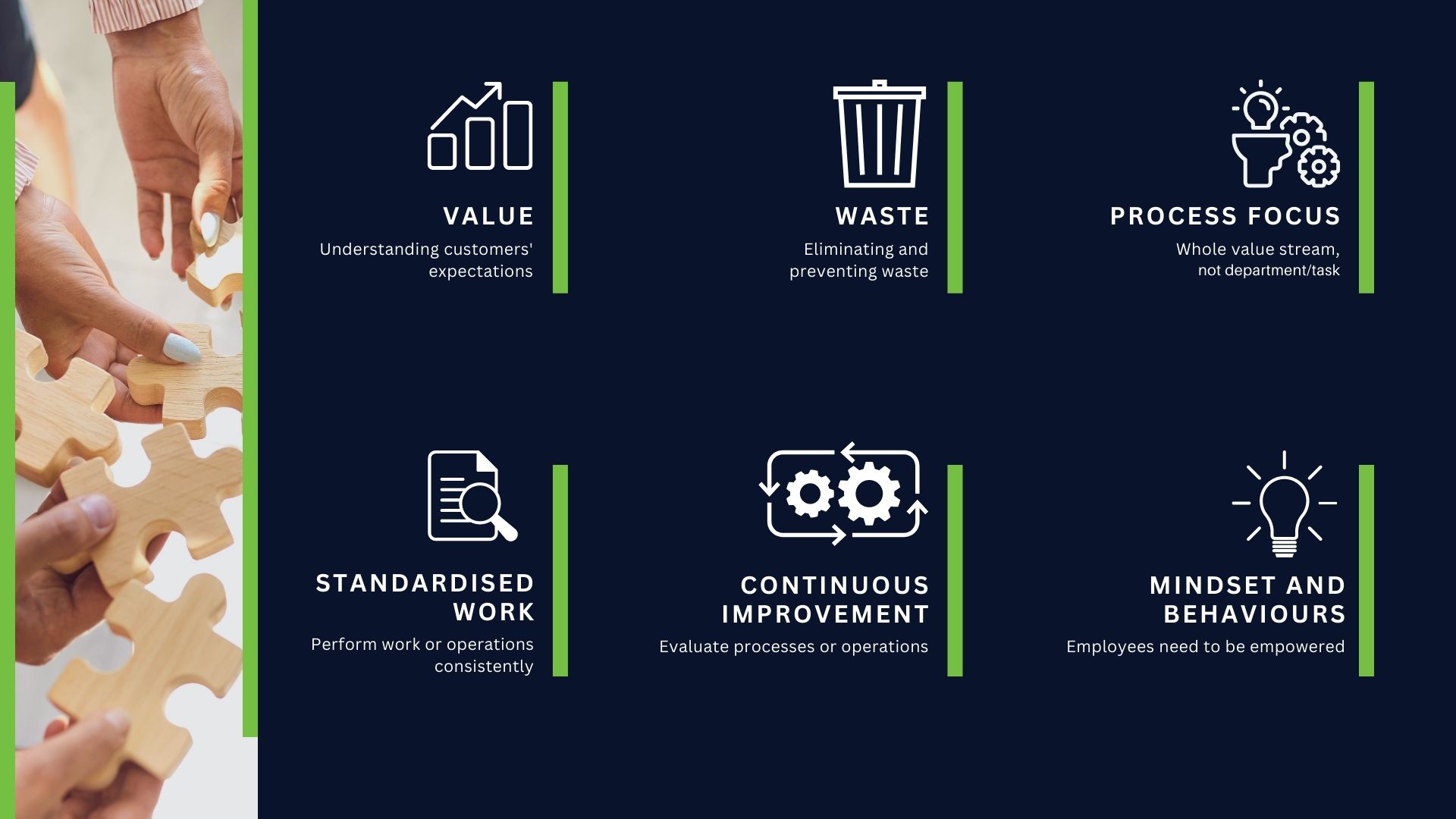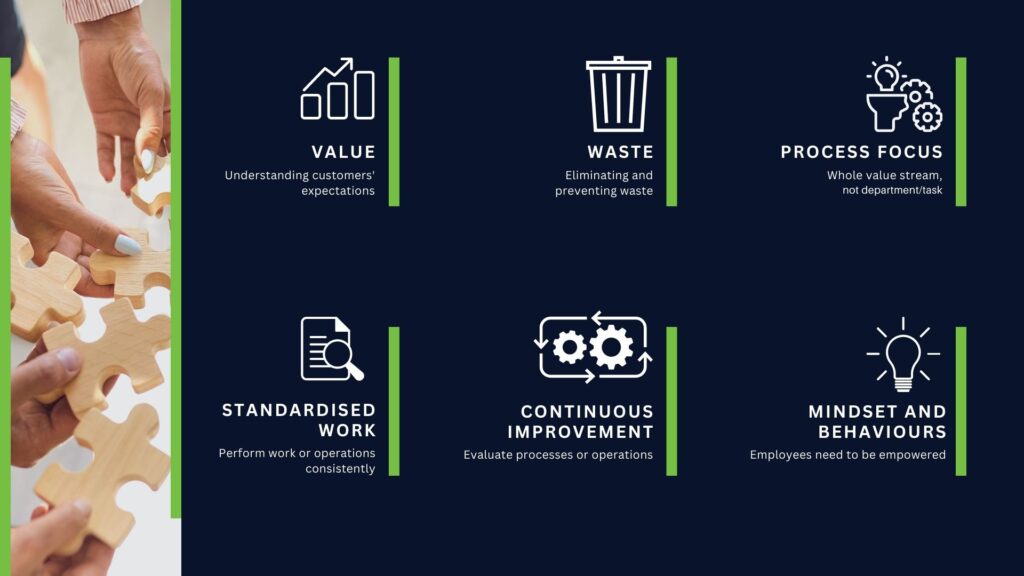 What does lean do?
1. Reduced lead time
Applying lean concept can minimise the time between starting and completing a production process. Redundant approvals and unnecessary procedures are eliminated to save time.
In his book "The Toyota Way", Jeffery Likey reports that the car manufacturer reduced its lead time by 93% after implementing lean principles. The book also mentions that manufacturers can reduce production lead time by about 60% by applying lean philosophy.
With reduced lead time, your organisation will experience faster production. This accelerates the speed at which a product is available for sale.
2. Improved productivity
Lean helps organisations identify and utilise the talents, skills, and knowledge of their people. This eliminates the non-use or under-use of talents, which usually leads to a lack of motivation and low employee engagement. Although the lean concept originated from the automotive industry, it can be applied to other industries.
Two US healthcare institutions reported increased productivity and timely service delivery after implementing lean principles. Another hospital reported an 85% reduction in the time patients wait for lab results.
3. Cost reduction and increased profits
Lean aims at maximising value and minimising waste in the manufacturing process. It helps you eliminate non-value-added activities such as overproduction and excess inventory. This helps to significantly reduce production costs and improve profitability.
One manufacturer reported a year-on-year increase in profits since implementing lean. In a period of nearly a decade, the company's pretax profit jumped from 2% to 13%.
1. Specify value from the customer's perspective
Define value from the customer's point of view. Value is any activity that directly contributes to meeting a customer's needs. Identify what is valuable to the customer and deliver it.
2. Identify the value stream
Value stream is an end-to-end flow of processes required to deliver the product or service to the customer. Mapping out your value stream visualises the entire production process, making it easy to identify improvement opportunities. After understanding your value stream, ensure it flows uninterrupted.
3. Create value by eliminating waste
During the initial mapping of the value stream, it is common to discover that only 5% of activities truly add value, which may increase to 45% in a service environment. By eliminating this waste, you ensure that your product or service can flow smoothly to the customer without interruptions, detours, or waiting times.
4. Respond to customer pull
This principle focuses on production that only responds to customer demand. There is no creation of commodities based on forecasts or pushing items onto the market. Instead, you create what is needed when necessary. As a result, you avoid overproduction, excess inventory, and waste.
There are four elements to this customer pull system:
Takt time is the rate of production required to meet customer demand. It sets the production rhythm to ensure that the pace of work aligns with customer requirements.
Flow ensures that the work (product or service) flows continuously after launch. By providing dedicated support and responding to any problems that may arise, interruptions and delays are minimised.
Pull is part of the system that responds directly to customers' needs and orders. In other words, a product or service is only available when a customer demands it.
Improve element emphasises on the continuous evaluation of the process so that every improvement leads to an opportunity.
5. Continuously improve
Achieving flow and pull begins with a reorganisation of individual process steps, but the real benefits emerge when all the steps are linked together. As this linkage progresses, more layers of waste become evident, driving the process towards perfection. As a result, every asset and action now add value to the end customer. Since this principle focuses on improvement efforts, data collection is essential.
Apply lean principles to your operations
Lean office is one of many key components of organisational effectiveness. If you want to create a high-performance organisation that is ready to tackle any challenge, but are not sure where to start, let our experts help you analyse the gaps within your operations.
Renoir will work closely with you to develop a practical programme to implement sustainable solutions that last.
Enhance your business's competitiveness and agility today.
Source:
1. Forbes > Innovation. (Lean) Visual Management and How it's changed during the pandemic by Timothy McCracker.
2. Going Lean in Healthcare. IHI Innovation Series white paper. Cambridge, MA: Institute for Healthcare Improvement; 2005.
3. Teich, S. T. & Faddoul, F. F. Lean Management – The Journey from Toyota to Healthcare. Rambam Mainonides Medical Journal; 2013.
4. Increase Profits: Continuous Improvement with Lean. Cycle Time Management.