At a Glance
Embracing digitalisation goes beyond the mere technological adoption as it requires a comprehensive transformation of organisational policies, systems, and practices
When done right, digital transformation revamps business operations to create a whole new experience for customers and employees
Digital transformation is multifaceted. But there are four levers you should focus on to ensure your organisation is ready for digital transformation
With the increasing integration of technology into all aspects of business operations, companies find themselves compelled to prioritise digital transformation in order to remain competitive in today's environment. By implementing digital technologies on a large scale, companies can streamline processes and explore untapped opportunities.  
However, embracing digitalisation goes beyond the mere technological adoption. It requires a comprehensive transformation of organisational policies, systems, and practices. In other words, your business must undergo transformation to facilitate and accommodate the digital readiness required for a successful digital transformation. The question then arises: How can your business transform to enable and support your digital transformation journey?  
The Path to Digital Transformation 
The concept 
Digital transformation is a strategic process that leverages digital technologies to revolutionise and adapt an organisation to keep up with dynamic changes in the market landscape. An organisation "starts from scratch" and integrates new technologies as it reinvents its policies, systems, and practices.  
This transformational journey is designed to meet specific goals based on the industry in question. To navigate any resistance within the organisation and ensure a seamless transition to the digital paradigm, effective change management becomes paramount during this undertaking.  
Why digital transformation matters 
Global spending on digital transformation is expected to exceed $3.4 trillion by 2026 (up from 1.6 trillion in 2022). Its relevance is firmly rooted in the following: 
Improves the customer experience: By streamlining processes with digital technology, companies can provide faster and more efficient services to customers. This could be by making it easier to do business with the company and streamlining order fulfilment.  
Facilitates data-driven decision-making: Internal stakeholders can capture meaningful data and improve analytical capabilities through advanced analytics. The result? Better-informed and more efficient decision-making.   
Makes an organisation more resilient and agile: With enhanced system capabilities, businesses can respond quickly to market changes, manage supply chain issues, and drive sustainable gains.   
When done right, digital transformation revamps business operations to create a whole new experience for customers and employees. It helps to harness the capabilities of internal stakeholders, facilitate innovation, and lower production costs. This can give an organisation a competitive edge.  
Digital transformation is multifaceted. But there are four levers you should focus on to ensure your organisation is ready for digital transformation.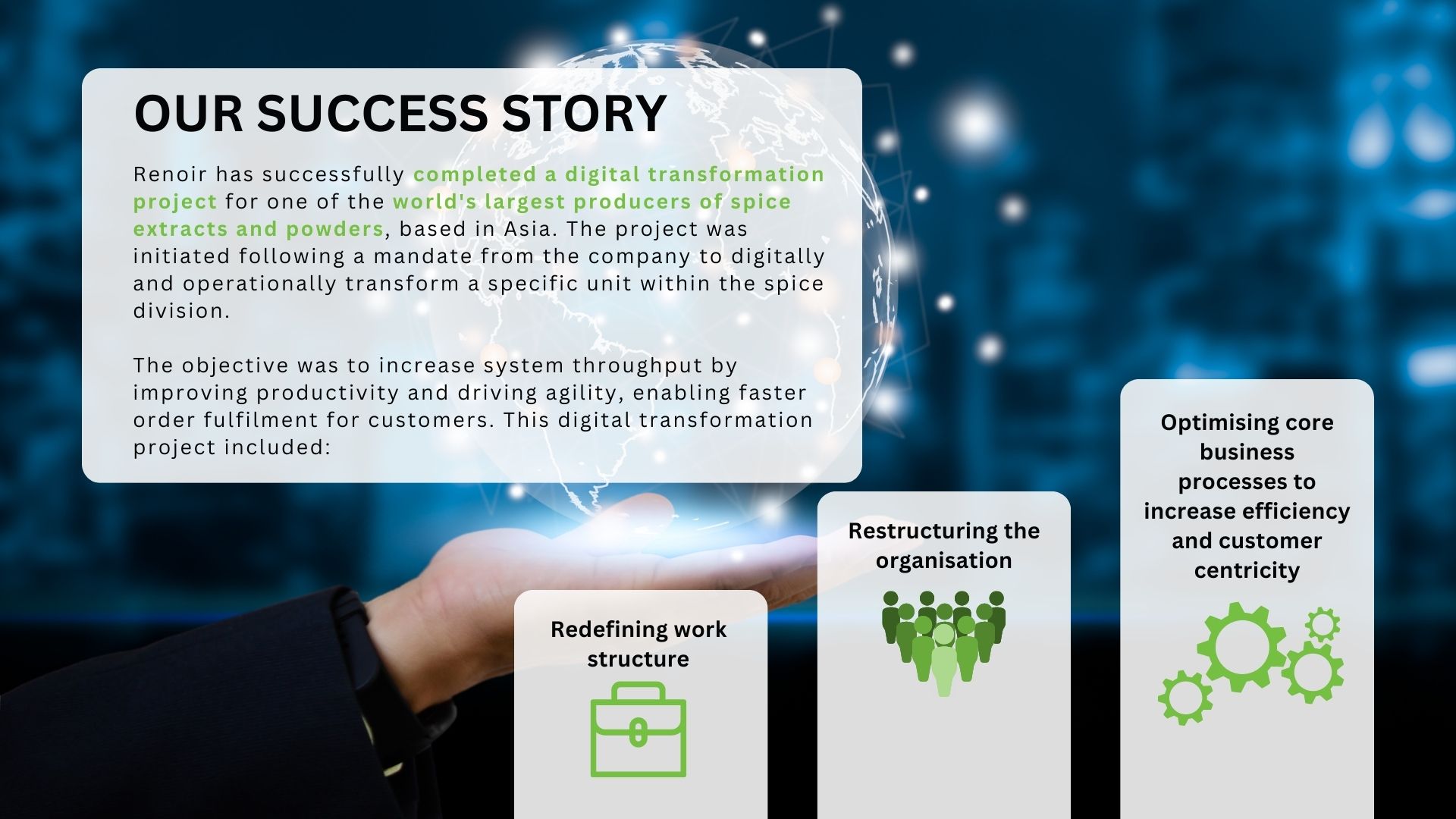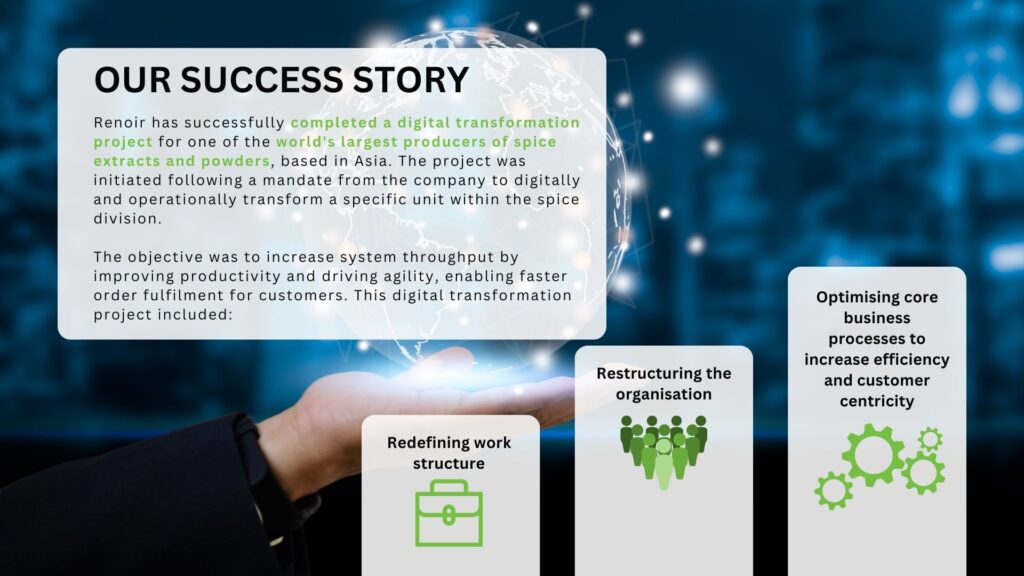 4 Key Levers of Digital Transformation 
Digital transformation relies on four pivotal levers.  
Digital value chain 
One of the key aspects of this transformation is the digitalisation of the value chain, which involves the use of communication and information technology across all entities in the chain. This shift towards digitalisation brings various benefits, including increased efficiency and enhanced collaboration. 

A critical component of the digital value chain is the digitisation of e-auctions. By moving auctions online, companies can simplify the procurement process, increase transparency, and attract a wider range of suppliers who can help them secure the best deals. 

Another primary area where digital technology is having a significant impact is in the incorporation of a demand-sensing algorithm into the value chain. By analysing point-of-sale (POS) data, companies can accurately forecast demand and adjust their inventory management.  
Digital reporting  
Digital reporting enables businesses to develop efficient strategies and respond swiftly to changing market landscapes. It involves a series of steps that are important to unlocking the full potential of data for driving growth. 

As data is the backbone of digital reporting, developing a seamless data flow system into a unified platform facilitates real-time reporting and allows data silos to be broken down to create a cohesive view of the overall business performance. 

A successful digital reporting journey requires a well-structured system. It is therefore important to create a tree of both leading and lagging key performance indicators (KPIs) for a clear visualisation of the metrics that matter most to your business. By properly mapping these KPIs, it makes it easier for your business to generate reports and dashboards to facilitate data-driven decisions.  
Digital employee 

Digital employees are equipped with advanced tools to perform their duties for efficient operations. Digital employees must be trained to be able to integrate modern technologies into the work environment that can empower them and boost their productivity. 

The digital workforce encompasses a range of capabilities, including streamlined work management to facilitate employees' gate entry, job allocation, and shop floor traceability. Where technology intertwines seamlessly with everyday tasks and operations, the workforce should be able to leverage data from machine sensors. When the machine sensors send alerts for tasks such as repair, maintenance, condition-based and preventive actions, the workforce would be able to take more proactive actions, thereby contributing to cost-effective operations.   
Digital customer experience 

The digital customer experience encompasses a range of online touchpoints and services designed to improve customer satisfaction, convenience, and overall experience. Some key elements of the digital customer experience include order status visibility and enquiry management. 

A well-designed customer digital experience focuses on providing user-friendly and personalised interactions. By providing customers with real-time updates on their order status, including shelf information and delivery estimates, it enhances customer satisfaction. It also provides companies a competitive edge if your business offers a mobile interface that allows customers to communicate directly with the sales team – providing information on sales enquiries about products and services seamlessly.  
Digital Transformation Made Easy 
Digital transformation helps businesses stay competitive and adapt quickly to market demands. However, you can only reap the full benefits if you take the right approach. 
Renoir's digital transformation approach can help you deploy your strategy right, so you can realise your vision and reap the full benefits of going digital. With over two decades of experience in helping businesses implement organisational transformation, Renoir has what it takes to help your organisation adopt and fully embrace modern technology.