Background 
The animal feed industry is an important global sector that supports the production of animal products intended for the human food chain. The global animal feed industry is forecasted to reach over US$589 billion by 2027, according to a 2023 Animal Feed Market report.  
The increasing purchasing power and the growing middle class in Asia are driving consumption growth, leading to a surge in the demand for food ingredients. As a result, the animal feed ingredients market is experiencing growth, as there is a higher affordability of food amongst the consumers. Manufacturers and suppliers of feed ingredients are striving to increase the production of animal feed ingredients to meet the growing consumer demand.  
Recognising the opportunities to maintain and grow their market position, our client, a renowned conglomerate based in South Asia with various business verticals, including but not limited to, animal feed manufacturing, edible oil extraction, and livestock rearing, commissioned Renoir to:  
Improve operational efficiency at its manufacturing facilities; 
Optimise the supply chain.  
Achieving these objectives can help our client increase its sales volume over gain a larger share of the animal feed market.  
Analysis 
Renoir began the project by:  
Conducting a market survey and a detailed analysis of the client's internal processes; 
Organising focused instructions with key stakeholders across the value chain to understand the daily issues; 
Observing and analysing data to understand the managerial control, from field level executives to top management levels. 
Project Approach  
We implemented the project with a well-structured approach, involving a team of consultants and our client's senior management team.  
Project Team
This team comprised 17 members from our client's team, supported by 7 Renoir consultants, to drive the project's success.  
Steering Committee
The committee consisted of senior management level from our client's team. 
Management Action Teams (MATs)
Five MATs were formed to address specific areas of opportunity. The teams – Production, Supply Chain, and Sales — were composed of functional and department heads. They were tasked with driving change, implementing improvements, and achieving desired results within their assigned areas.  
Comprehensive checks and controls were implemented to ensure progress and adherence to targets. These were performed using management system elements, enabling effective monitoring and measurement of performance.  
Implementation 
Following the Renoir's Focus Process®, teams commenced the required changes aimed at reducing non-value-added activities within production and sales, while also enhancing lead management and production control processes. Changes were implemented in the following areas: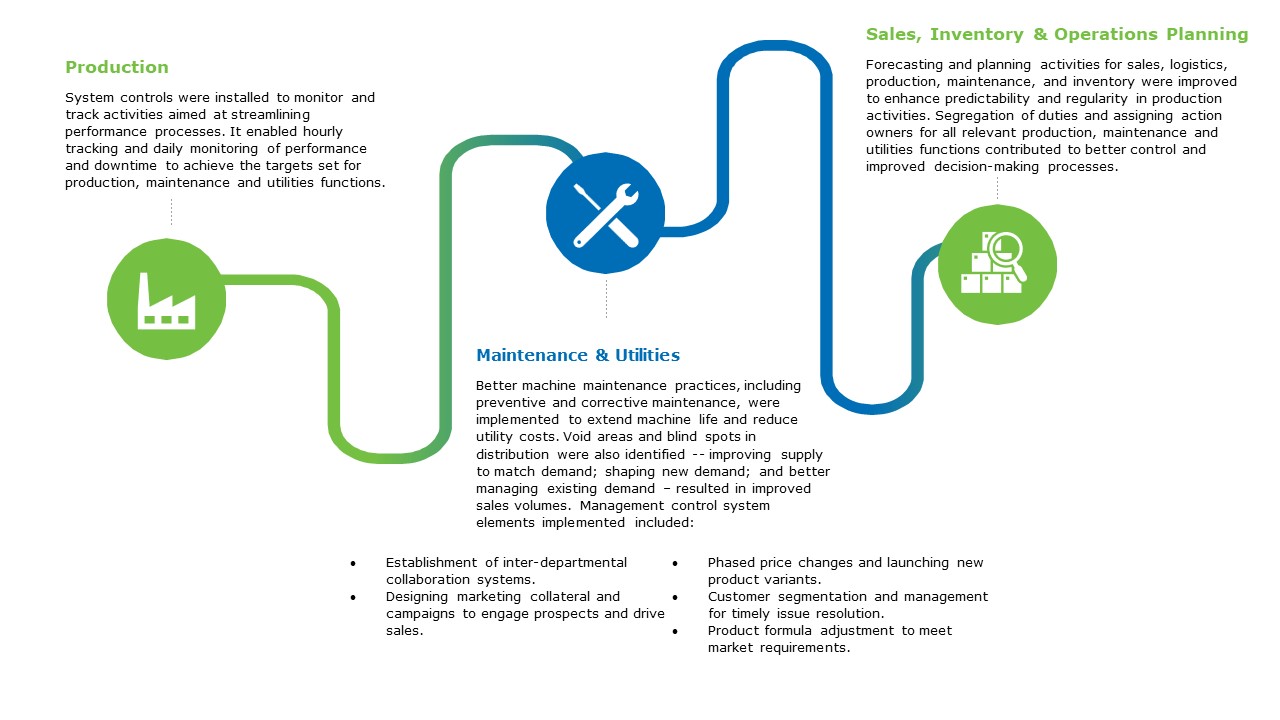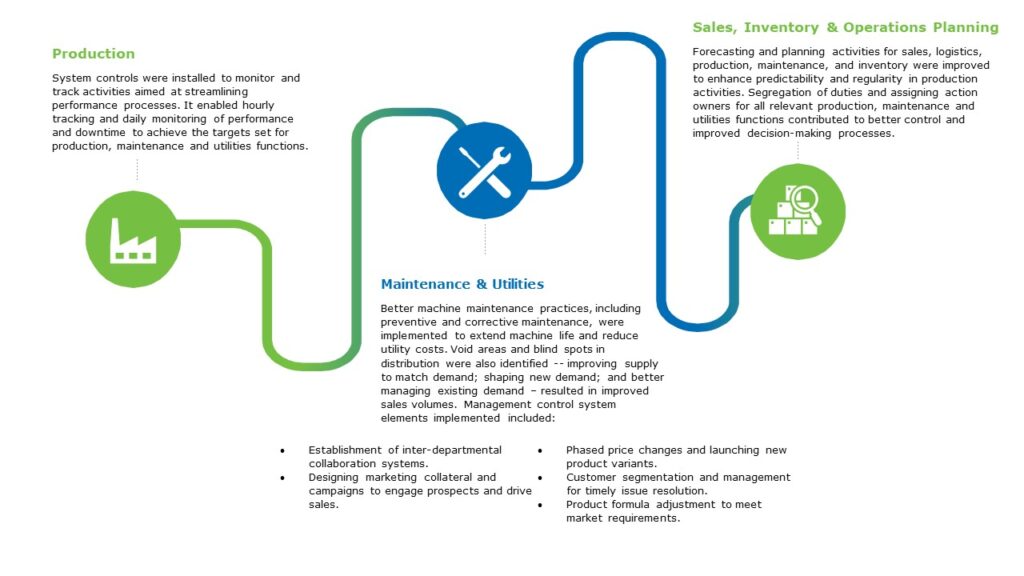 Geo-tagging of dealer and distributors, as well as farmer locations for existing and potential network was implemented as this measure helped improve the availability of demand and supply data. 
Key results
"We see our growth and long-term sustainability being driven by our teams' ability to learn, un-learn and re-learn as a constant process. Renoir has made this process seamless."
– Group Director
The collaboration between the client and Renoir resulted in significant improvements to production, maintenance, and utilities processes and procedures. Through this partnership, our client achieved a remarkable step change in performance, implementing systems and tools that will enable sustained long-term improvements.
Looking to reinvent how you do things?
Improving operations capabilities is a never-ending journey that requires constant innovation and reinvention.
If you are looking to improve your operational excellence but not sure where to start, contact us here so we can gain a deeper understanding of your operations and how we can build a practical approach to implement effective, sustainable solutions for your business.
*We have intentionally omitted client-specific details to uphold strict confidentiality.