Background
The global catering services sector is projected to reach US$378.39 billion in 2026, with a Compound Annual Growth Rate (CAGR) of 8.2%. Catering businesses provide food and beverage services to a variety of clients, and they operate out of a dedicated kitchen or facility.
Our client is one of the largest catering companies in this industry. They are a publicly listed company in the Asia-Pacific region. The Group also operates a network of restaurants and bakeries under different brands and have several centralised food processing and logistics centres.
As the Group continued to grow, they began expanding and started encountering common organisational growing pains relating to organisational structure and management, while ensuring adherence to company policies among its frontline staff.
Project Approach
Our client commissioned Renoir for a thorough two-week analysis of key operational areas to resolve these growing pains. The analysis aimed at identifying any existing management gaps and highlighting the need for behavioural change within those areas.
After the two-week project's completion, our client decided to extend Renoir's involvement to a 30-week project, known as PSE (Product, Service, Environment). To facilitate the implementation of new processes, a collaborative team comprising employees from the Group and our consultants were established. This joint team was responsible for defining, executing, and monitoring the proposed changes.
Management Action Teams (MATs) were also set up to allow active participation in the definition of the proposed changes, and to ensure the successful implementation across various areas. A governance model was put in place to ensure effective project management. This model required a bi-weekly reporting to a Steering Committee comprised of senior management from the Group.
The following tasks were set out for the PSE project: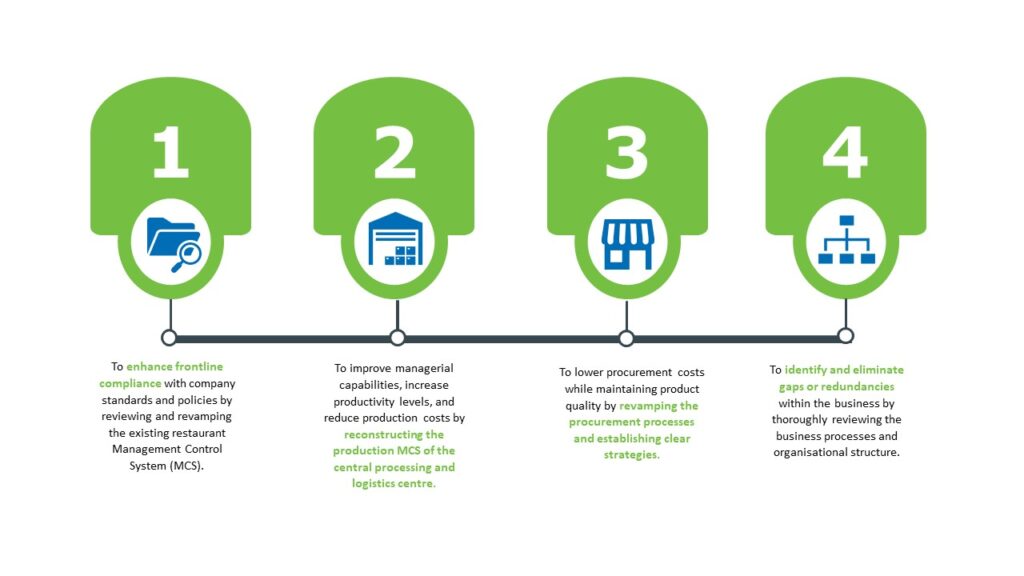 Project Implementation
In accordance with initial tasks set out for the PSE project, these activities were implemented in the following workstreams:
Restaurant Operations Management Control System (MCS)
Our primary objective was to drive change on frontline management behaviour and management capability with an outcome of improving frontline compliance with company standards and procedures. These activities were undertaken after revising and completing the restaurant operations MCS:
Implemented a data-driven inventory management and margins control mechanism to reform the existing inventory management practices, reduce wastage, and enhance gross margin rates.
Introduced quality control mechanisms for random food tasting sessions and chef skill observations to boost frontline compliance levels of existing requirements.
Kickstarted the merger of kitchen operations through a series of activities including upskilling the staff, improving management skills, and sharing both human and inventory resources across multiple kitchen locations.
Central Processing and Logistics Centre
Revamped the existing Production MCS to drive frontline management behavioural change with a focus on a mindset shift from reactive to proactive management.
Developed Recipe Management and Production Control mechanisms to boost machine feeding accuracies, reduce waste, and stabilise quality levels.
Introduced and encouraged frontline driven improvement initiatives, resulting in effective recommendations to boost productivity and quality from the frontline staff.
"This project has greatly assisted the Group in the Procurement and Central Processing and Logistics Centre workstreams by establishing previously lacking structures and processes, resulting in real improvements in results."


CEO
Procurement Processes
Expanded current suppliers' list to encourage pricing comparisons and foster competition.
Introduced supplier quality control mechanisms to boost procurement efficiencies.
Introduced market survey and price setting mechanisms, by taking into account the raw material requirements set for different countries to leverage the benefits of volume discounts through economies of scale.
Introduced open tender for supplier contracts.
Reviewed and revised the existing procurement MCS to ensure a comprehensive Forecast-Plan-Control-Report cycle is in place to strengthen the procurement processes and optimise management capabilities.
"The PSE project has assisted me in the management of different departments. We are the real beneficiaries with observable and notable changes in my management team."


– Central Processing and Logistics Centre Director
Business Processes
Employed comprehensive observation techniques and task listing tool for a thorough review of existing business processes and redesign of the organisation structure, including the realignment and redefinition of roles and responsibilities within departments.
Revamped long-standing industry traditions in kitchen operation by initiating the process of merging and re-optimising kitchen organisation structure and resources.
Results
"This has been a successful project with concrete financial benefits, there has also been a noteworthy behavioural change in the frontline supervisors."

Chairman
All the workstreams successfully accomplished its specific project goals, leading to significant improvements in the bottom line and tangible financial benefits. The project's sustainability was assured through the development of effective, internally driven MCS that have been carefully fine-tuned to encompass all aspects of the organization's operations.
The Operational Excellence Advantage
This case study showcases a real project, highlighting Renoir's expertise in Operational Excellence. The project focuses on enhancing team and organisational performance by revamping roles, responsibilities, and the business structure, aimed at achieving operational effectiveness and specific business objectives.
Operational excellence should be pursued organisation-wide, involving core business processes, the entire supply chain and support functions. It is important for staff across various units to embrace a culture of continuous improvement.
Every client's journey is unique, shaped by their available resources and current circumstances. Get in touch with us so we can gain a deeper understanding of your requirements and tailor our services accordingly.
*We have intentionally omitted client-specific details to uphold strict confidentiality.