Data — and under­stand­ing how to use data — is now a pre-requisite to work­ing in this day and age.
Data is a cru­cial resource for busi­ness­es as they move online. Busi­ness data can help form the back­bone of an organisation's growth strat­e­gy, and help a busi­ness learn more about cus­tomer desires, com­plaints, and busi­ness oper­a­tions. Know­ing about data in busi­ness can help you under­stand how mod­ern com­pa­nies use it for success.
The fourth indus­tri­al rev­o­lu­tion — more com­mon­ly known as the infor­ma­tion rev­o­lu­tion — is being dri­ven by new tech­nolo­gies and the ever-decreasing costs of dig­i­tal sens­ing, pro­cess­ing and mem­o­ry. It is the dri­ving force behind the con­ver­gence of AI, machine learn­ing, vir­tu­al and aug­ment­ed real­i­ty, 3D print­ing and the inter­net of things (IoT).
What is Busi­ness Intel­li­gence (BI) — and how does it help companies?
Busi­ness intel­li­gence is a key com­po­nent of Indus­try 4.0. It extracts val­ue from raw transactional/operational data and trans­forms it into use­ful infor­ma­tion for decision-makers. It helps busi­ness­es to make data-driven deci­sions by pro­vid­ing insights into cus­tomer behav­iour and pref­er­ences, mar­ket trends, and oth­er key per­for­mance indi­ca­tors (KPIs).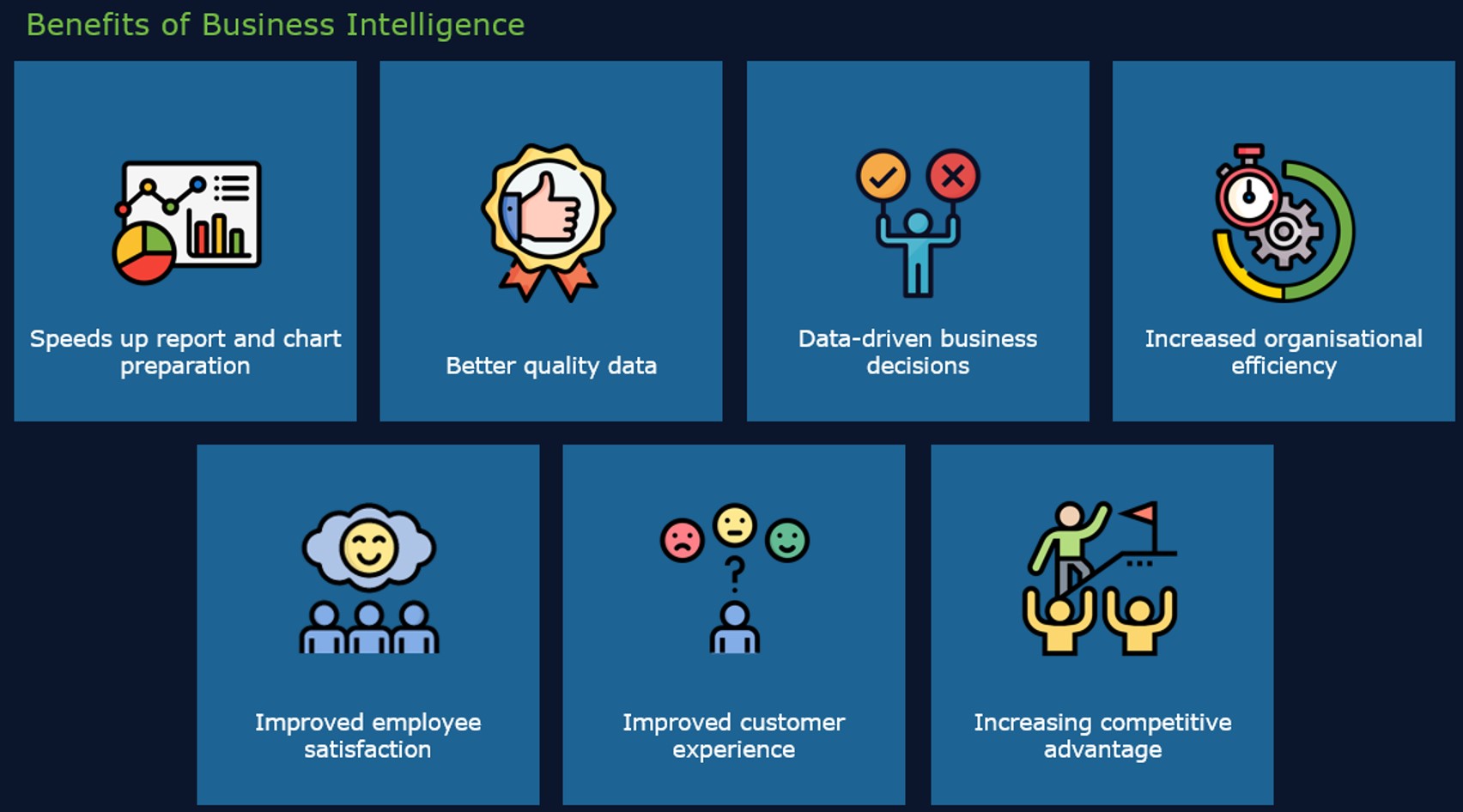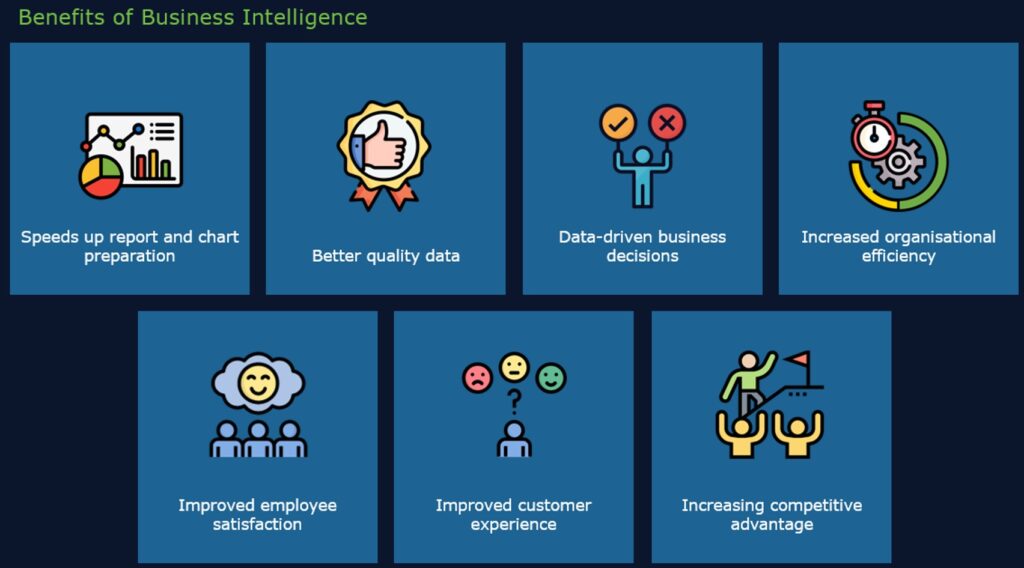 BI helps com­pa­nies to bet­ter organ­ise, access and inter­pret data to enable bet­ter deci­sion mak­ing. This involves extract­ing data from a source, trans­form­ing it into a usable for­mat, load­ing it into a busi­ness intel­li­gence appli­ca­tion and pro­vid­ing out­stand­ing visu­al­i­sa­tions and detailed insights.
BI speeds up report and chart prepa­ra­tion, which leads to big labour sav­ings. Depend­ing on the lev­el of manual-digital work involved, dig­i­tal­i­sa­tion can be as much as 30% of the organ­i­sa­tion headcount.
BI dri­ves bet­ter qual­i­ty data through improved stan­dard­i­s­a­tion and removal of error-prone man­u­al data manip­u­la­tion. BI also dri­ves bet­ter data-driven busi­ness deci­sions, by get­ting accu­rate data faster and hav­ing unpar­al­leled flex­i­bil­i­ty to manip­u­late, and extract val­ue from, data.
BI dri­ves increased organ­i­sa­tion­al effi­cien­cy. This comes from holis­tic views in place of dif­fer­ent siloed views, with bet­ter meth­ods to flag up areas that require atten­tion and being bet­ter able to iso­late the vital few attrib­ut­es that dri­ve suc­cess in a giv­en situation.
BI also increas­es employ­ee sat­is­fac­tion, due to the elim­i­na­tion of manual-digital work and democ­ra­ti­sa­tion of data. Once BI sys­tems are set up, data access becomes fast, agile, and extreme­ly user-friendly — even with queries through nat­ur­al lan­guage writ­ten questions.
Cus­tomer expe­ri­ence is also improved by BI. Through advanced ana­lyt­ics, cus­tomer needs and wants can be pre-empted and attend­ed to before the request even comes from their side. This lev­el of cus­tomer sat­is­fac­tion can end up becom­ing a com­pet­i­tive advan­tage, as BI allows com­pa­nies to dis­cov­er pre­vi­ous­ly unknown mar­ket­ing and sales infor­ma­tion thanks to data pat­terns and deep insights.
Lever­ag­ing BI for rev­enue growth
Com­pa­nies can lever­age BI to gain valu­able insights into their busi­ness oper­a­tions, iden­ti­fy areas for improve­ment, and make data-driven deci­sions that can ulti­mate­ly dri­ve rev­enue growth.
Here are some ways com­pa­nies can utilise BI to deliv­er rev­enue growth:
Iden­ti­fy new rev­enue opportunities
BI can help com­pa­nies iden­ti­fy new mar­kets, cus­tomer seg­ments, and prod­uct oppor­tu­ni­ties. By analysing cus­tomer behav­iour and pref­er­ences, com­pa­nies can cre­ate tar­get­ed mar­ket­ing cam­paigns that are more like­ly to dri­ve sales.
Opti­mise pric­ing and promotions
BI can help com­pa­nies analyse sales data and mar­ket trends to deter­mine the most effec­tive pric­ing strate­gies and pro­mo­tions. By using this infor­ma­tion to opti­mise pric­ing and pro­mo­tions, com­pa­nies can increase sales and revenue.
Improve oper­a­tional efficiency
BI can help com­pa­nies iden­ti­fy inef­fi­cien­cies in their oper­a­tions, such as bot­tle­necks in the sup­ply chain or unnec­es­sary expens­es. By improv­ing oper­a­tional effi­cien­cy, com­pa­nies can reduce costs and increase profitability.
Enhance cus­tomer experience
BI can help com­pa­nies under­stand cus­tomer needs and pref­er­ences, which can be used to improve the cus­tomer expe­ri­ence. By pro­vid­ing per­son­alised expe­ri­ences and address­ing cus­tomer pain points, com­pa­nies can improve cus­tomer loy­al­ty and dri­ve rev­enue growth.
Mon­i­tor key per­for­mance indi­ca­tors (KPIs)
BI can help com­pa­nies track and mon­i­tor KPIs, such as sales, rev­enue, and cus­tomer sat­is­fac­tion. By reg­u­lar­ly review­ing KPIs, com­pa­nies can quick­ly iden­ti­fy areas that require atten­tion and take action to address them.
The Renoir advan­tage in busi­ness intel­li­gence and data analytics
Organ­i­sa­tions need to meet the mar­ket and match much small­er, agile com­peti­tors regard­ing speed to mar­ket, cost, cre­ativ­i­ty, and cul­ture. Data and ana­lyt­ics pro­vide a path­way to deliv­er this and offer many oppor­tu­ni­ties to build val­ue that all too often remain hidden.
Renoir's com­bi­na­tion of best-in-class exper­tise and industry-tested tools and method­olo­gies have helped clients across a myr­i­ad of indus­tries make bet­ter deci­sions, faster.
Here's what we can offer:
Cen­tres of Data Excellence
We have estab­lished Cen­tres of Excel­lence world­wide with in-house Data Engi­neers, Data Ana­lysts, Data Sci­en­tists, Solu­tion Archi­tects, Dig­i­tal Pro­gramme and Project Man­agers. We utilise the best-in-class but also best-fit for your organ­i­sa­tion data ana­lyt­ics and visu­al­i­sa­tion solu­tions, Arti­fi­cial Intel­li­gence (AI), Machine Learn­ing (ML), Inter­net of Things (IoT) and data lake cloud solutions.
More than just implementation
We are not just sys­tem imple­men­tors but also man­age­ment con­sul­tants at heart. This means that we will analyse what val­ue your busi­ness needs to deliv­er from its data, and how to best adopt to the changes required. We then help you to deliv­er the tech­ni­cal imple­men­ta­tion and adop­tion of it.
Experts in adoption
Renoir has more than 20 years' expe­ri­ence in tak­ing projects to full adop­tion using our behav­iour­al and cul­tur­al change method­olo­gies. This approach guar­an­tees that we leave the organ­i­sa­tion and your peo­ple with the abil­i­ty to con­tin­ue to grow val­ue long after the project is delivered.
If you would like to learn more about how we do this, please feel free to get in touch with us.