Part II: How to Mar­ket the Right Busi­ness Model
This arti­cle is Part 2 of our two-parter on rev­enue growth from mar­ket­ing effec­tive­ness. If you haven't read Part 1 yet, please click here.
Using Inbound and Out­bound Media Effectively
When it comes to pro­mo­tion­al activ­i­ties, we often find sig­nif­i­cant flaws in the way com­pa­nies allo­cate their spend. The major­i­ty spend 90% on the up-front aware­ness mes­sages in con­ven­tion­al out­bound media, with very lit­tle spend made on the oth­er stages of the buy­ing process. Con­sumers are often more open to influ­ence at the active eval­u­a­tion (search and inter­est) and loy­al­ty (repeat action/advocate/share) stages.
There are dif­fer­ent con­sumer jour­neys to reach your prod­uct depend­ing on the indus­try. For exam­ple, loy­al­ty is much more impor­tant in the auto­mo­bile indus­try than aware­ness. There­fore, there must be a huge bias towards Repeat Action and Share messages.
There are 4 types of media at the high­est lev­el – paid, owned, earned, and shared.
Paid and owned media is referred to as out­bound media, where con­tent is pushed onto the consumer.
Earned and shared media is referred to as inbound media. Rather than 'invad­ing' a customer's space with paid adverts, the con­tent is avail­able when a cus­tomer is in active eval­u­a­tion and is received in a much more pos­i­tive manner.
Inbound media is vital in the interest/active eval­u­a­tion stages for estab­lished prod­ucts and is noth­ing short of vital in new prod­uct launch­es. In an increas­ing­ly online world, inbound media is hav­ing a pro­found effect on mar­ket­ing. Unfor­tu­nate­ly, many com­pa­nies are weak in man­ag­ing this.
The Right Media for The Right Message
Not only do clients tend to spend too much on aware­ness mes­sages, what­ev­er mes­sages they do use can also end up being dis­sem­i­nat­ed in the wrong media. For exam­ple, a bank we worked with in Thai­land was plan­ning to cross-sell an insur­ance prod­uct to their cred­it card hold­ers via a bill­board cam­paign. How­ev­er, most peo­ple see­ing the bill­boards would not even have the bank's cred­it card. It would be bet­ter for the bank to spend on direct mail leaflets includ­ed in the cred­it card statement.
The chart below maps the AISAS (Aware­ness, Inter­est, Search, Action and Share mes­sages) buy­ing process to the most appro­pri­ate media types. A large part of improv­ing mar­ket­ing effec­tive­ness is under­stand­ing where a company's prod­ucts and/or ser­vices are in their life cycles, deter­min­ing the best fit mes­sages to sup­port their sales, and map­ping these to the most appro­pri­ate media types.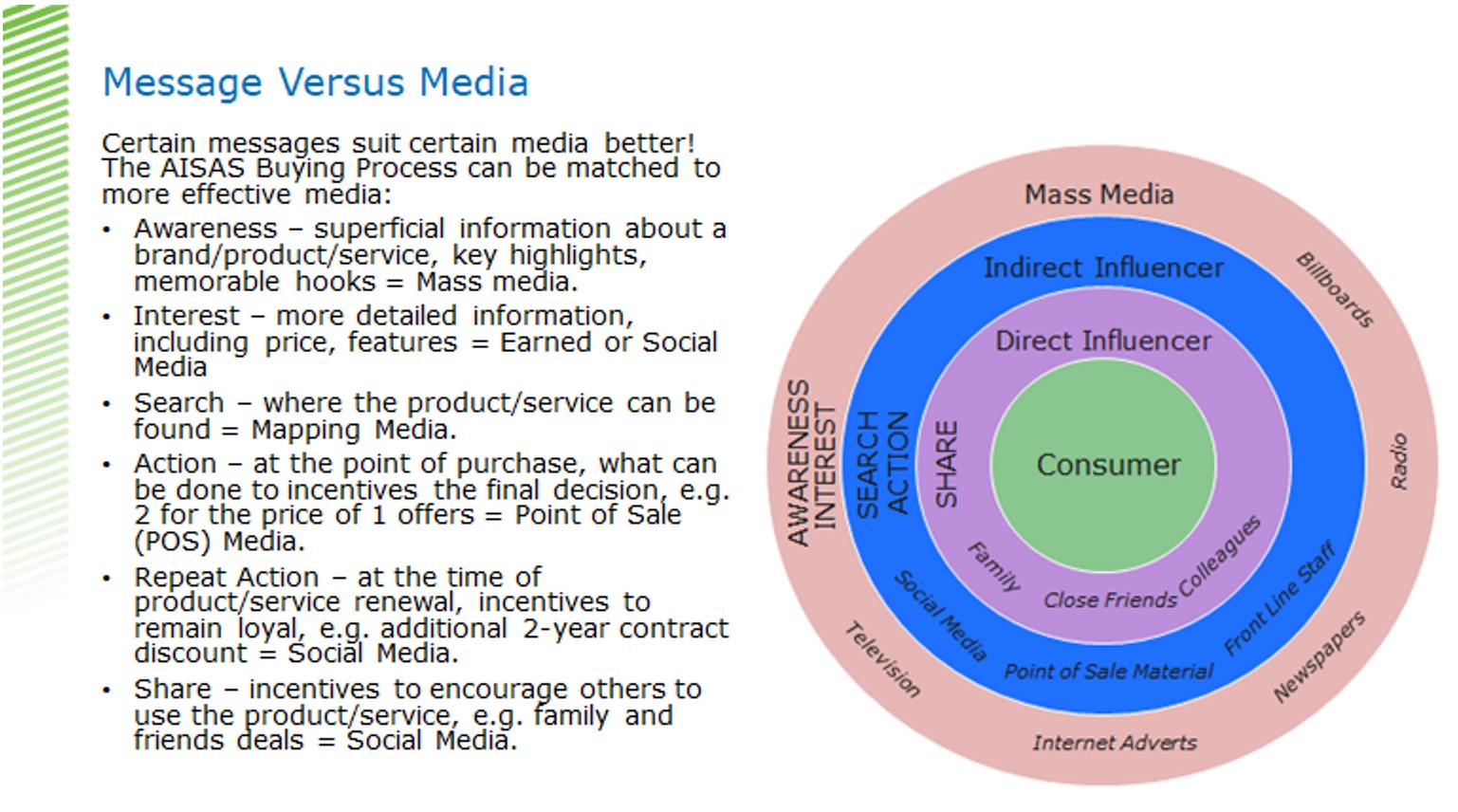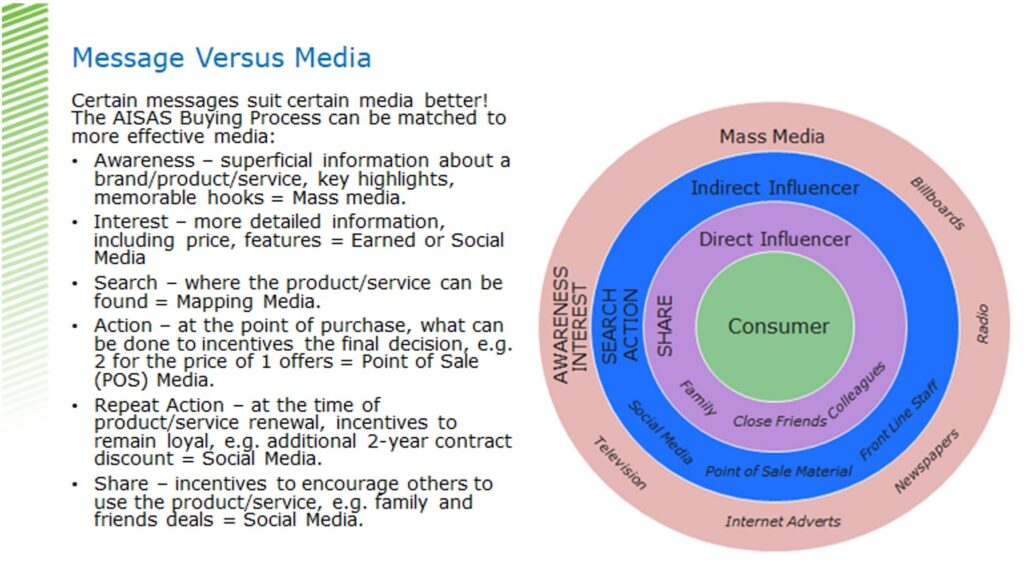 How­ev­er, we still need to make sure that com­pa­nies are get­ting a bang for their buck. This is where the con­cept of Cost Per Impres­sion (CPM) comes into play. CPM allows com­pa­nies to iden­ti­fy the true cost of reach­ing the con­sumer, by allow­ing them to iden­ti­fy which media is more cost effec­tive (in terms of impres­sions). In the long run, they can track vari­ances in the mes­sage and media mix ver­sus the uptake in sales, and start to home in on the most cost-effective combinations.
For one of our clients, we came up with 14 dif­fer­ent stan­dard cam­paign con­fig­u­ra­tions after some exper­i­men­ta­tion that rep­re­sent­ed the best mix of media by key mes­sages and type of event. With anoth­er client, we deliv­ered a 15% improve­ment in mar­ket­ing spend through bet­ter align­ment of mes­sage to prod­uct life cycle and media.
Mar­ket­ing Discipline
As men­tioned in Part I, mar­ket­ing is often seen as a black box into which a lot of mon­ey goes, with lit­tle eval­u­a­tion of how well it's spent or even prop­er bud­get­ing. Knee-jerk mar­ket­ing is all too com­mon (a sure sign of a reac­tive busi­ness), and gen­er­al­ly leads to rushed, half-baked cam­paigns, and sting­ing last-minute pro­cure­ment costs.
One of the most impor­tant tools for effec­tive mar­ket­ing is a prop­er bud­get. This is to tell you where your mon­ey is going to go, instead of wor­ry­ing where it went. The mar­ket­ing bud­get needs to be phased to support:
Planned prod­uct launches
Sea­son­al campaigns
Hol­i­day campaigns
Back­ground mar­ket­ing activities
Oppor­tunis­tic campaigns
One of the com­mon excus­es from the mar­ket­ing team is that they can't pro­duce a bud­get because they 'don't know what the cam­paigns will be ahead of time'. This is a com­plete­ly reac­tive approach. You don't need to know the exact con­tent of a cam­paign ahead of time; you just need to estab­lish when you will be hav­ing cam­paigns, and typ­i­cal­ly how much they cost. For exam­ple, a cam­paign plan would iden­ti­fy one TV cam­paign, one week­ly nation­al news­pa­per ads, and three YouTube influ­encer cam­paigns per quar­ter. The costs of these will be known ahead of time and can there­fore be planned and budgeted.
With advanced knowl­edge of media (not mes­sage) require­ments, the pro­cure­ment team can be tasked in advance to nego­ti­ate terms, and even pur­sue vol­ume dis­counts for the total bud­get in play and/or ven­dor rationalisation.
The Renoir Knowl­edge Base in Action
Renoir has devel­oped some extreme­ly effec­tive tools that improve the effec­tive­ness of mar­ket­ing spend and return on invest­ment – which you will not find in the main­stream mar­ket­ing sphere. You may will be delight­ed to learn that we remove the ambi­gu­i­ty and put in place mea­sured discipline.
By using our knowl­edge base and tools, we helped a client imple­ment ven­dor ratio­nal­i­sa­tion and cen­tralised pro­cure­ment, and buy adver­tis­ing air­time in bulk and in advance. This helped them obtain a 40% annu­al reduc­tion in spend for the same mar­ket­ing services.
There is huge val­ue to be gained from iden­ti­fy­ing the right busi­ness mod­els and cor­rect­ly align­ing mar­ket­ing spend to what is most effec­tive. We can help you achieve all these mile­stones — and more. If you would like to learn more about how we do this, then please get in touch.