Our sto­ries of busi­ness trans­for­ma­tion are rarely a straight­for­ward affair. It is holis­tic, com­pre­hen­sive, and col­lab­o­ra­tive. We help our clients out­per­form com­peti­tors and rede­fine their future. To do this, we go beyond strate­gies, reports, and recommendations.
Part of our suc­cess involves the Focus Process®, our patent­ed process that empow­ers employ­ees to take own­er­ship of the project imple­men­ta­tion. By work­ing along­side Man­age­ment Action Teams, con­sul­tants, client task forces, and the Exec­u­tive Steer­ing Com­mit­tee, the Focus Process® stage of our ser­vice helps employ­ees under­stand the issues, devel­op root cause solu­tions and achieve mea­sur­able and last­ing change.
How a busi­ness trans­for­ma­tion is organised
When we begin assem­bling the pieces need­ed to trans­form the oper­a­tions of our client, we will set up the fol­low­ing elements:
Man­age­ment Action Teams (MATs)
Han­dles all rel­e­vant work stream client man­age­ment and task force. MATs are respon­si­ble for the def­i­n­i­tion, devel­op­ment, imple­men­ta­tion, and sus­tain­abil­i­ty of the changes imple­ment­ed into the organisation.
Task force
A team (or teams) con­sist­ing of full-time client-side employ­ees and Renoir con­sul­tants, report­ing to a Renoir Project Man­ag­er. Sup­ports the MATs in defin­ing, devel­op­ing, imple­ment­ing, and mon­i­tor­ing the changes imple­ment­ed into the organisation.
Steer­ing committee
Account­able for the deliv­ery of the pro­gram objec­tives. The com­mit­tee reviews progress and takes the nec­es­sary exec­u­tive deci­sions need­ed to keep the project on track.
Work­force
The tar­get of the changes is the work force. Changes are imple­ment­ed with the MATs and task force work­ing hand in hand.
The char­ac­ter­is­tics of a task force
When we work with clients, we cre­ate task forces that are com­prised of full-time client-side employ­ees paired with our con­sul­tants. This arrange­ment facil­i­tates the change process and stream­lines any nec­es­sary ground­work activ­i­ties such as obser­va­tions, data analy­sis, pro­ce­dure design, train­ing, on-the-job coach­ing, audit­ing, and more.
Attrib­ut­es for a suc­cess­ful task­force can include (but are not lim­it­ed to):
Desire to improve and quick to learn
These val­ues are almost always manda­to­ry, as the project work under­tak­en is high­ly unlike­ly to be the same as that the prospec­tive task­force mem­ber does in their nor­mal role. It is also essen­tial that the task­force mem­ber picks up new skills quick­ly, oth­er­wise you will waste a large amount of time repeat­ed­ly teach­ing them to exe­cute new tasks.
In-depth exper­tise and exten­sive knowl­edge of organ­i­sa­tion­al operations
Task force mem­bers who are famil­iar with the cur­rent ways of work­ing can help point our con­sul­tants in the right direc­tion. They can help clar­i­fy the intri­ca­cies and com­plex­i­ties that inher­ent in the operations.
Clear lead­er­ship qual­i­ties and is also a team player
It's par­tic­u­lar­ly help­ful if the task force is able to act as lead­ers with oth­er client staff and assist in gain­ing accep­tance of changes pro­mot­ed as part of the project. At the same time, task force mem­bers must also be team play­ers for the project team to func­tion effec­tive­ly; this extends to know­ing how to help each oth­er out.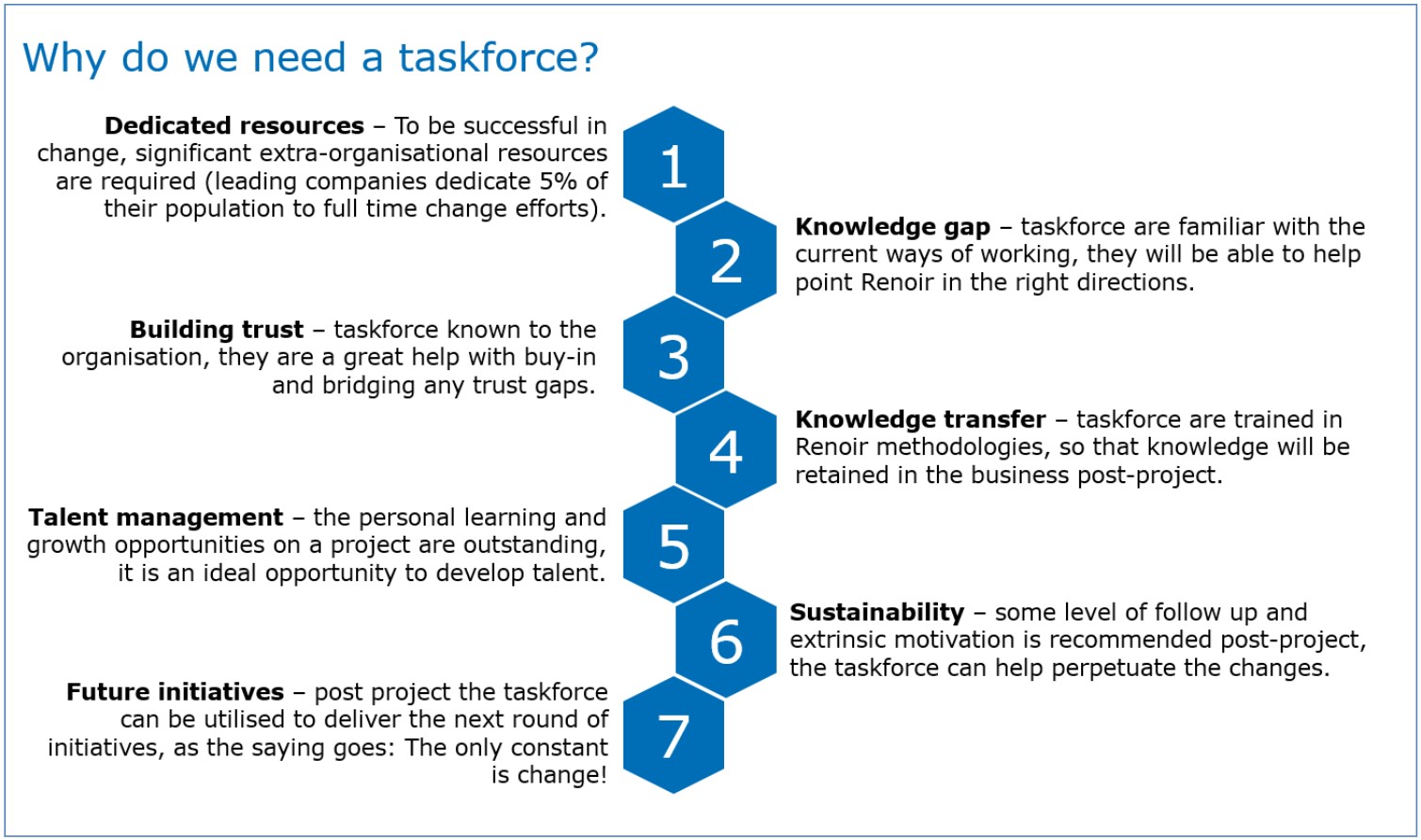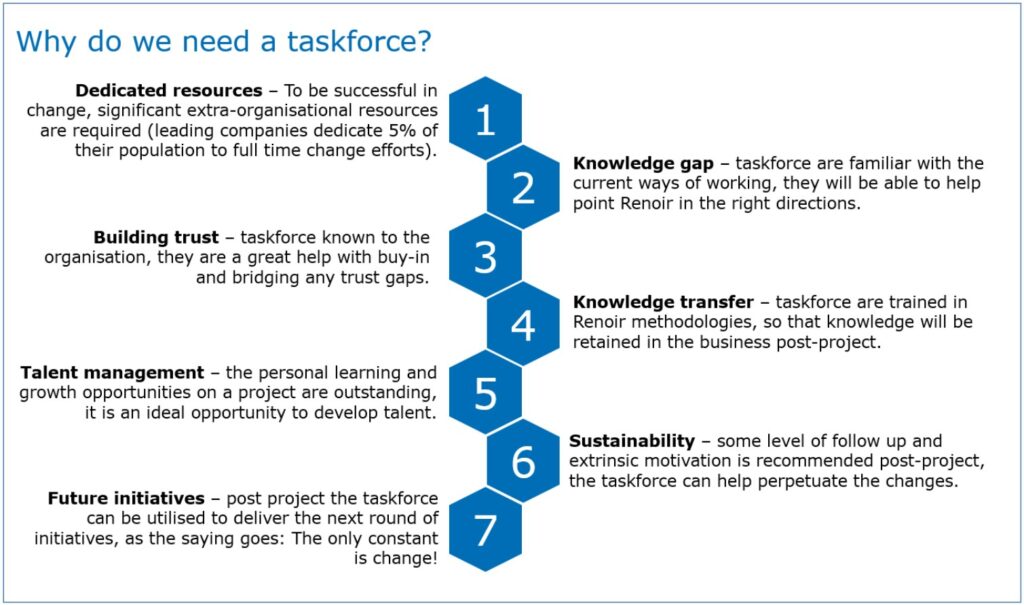 Our meth­ods deliv­er success
Our approach means that every engage­ment will receive the utmost lev­el of care and invest­ment in tal­ent, resources and lead­er­ship atten­tion. We are account­able for real and mea­sur­able out­comes. We focus on peo­ple engage­ment across all lev­els and ensure that change objec­tives are ful­ly achieved and sustainable.
And it has deliv­ered suc­cess to clients across mul­ti­ple indus­tries. We've helped oil & gas com­pa­nies achieve mil­lions in sav­ings, enabled ener­gy providers to effi­cient­ly train thou­sands of its employ­ees, and empow­ered steel con­glom­er­ates to stream­line oper­a­tions across borders.
With our exper­tise and knowl­edge base, we can help you dri­ve bet­ter deci­sions and deliv­er sus­tain­able results. If you would like to learn more, please feel free to get in touch with us.