At a Glance
Both construction managers and on-site workers are equally important in the construction process
The implementation of workforce planning is imperative, and serves as a conduit for achieving operational excellence and improved productivity
Effective communication is at the core of the construction industry, a sector that relies on meticulous procedures and protocols
Achieving operational excellence in the construction industry is a more complex challenge than in other industries. This complexity is due to a variety of factors, such as extensive labour involvement, resource and labour constraints, compliance with local regulations, and the dynamic differences between different job sites.
In addition, the construction industry has one of the highest rates of occupational injuries and worker accidents, highlighting the critical need for comprehensive safety protocols.
Within this discourse, we will explore the strategies by which construction companies can achieve operational excellence. In doing so, these strategies will create an environment that not only enhances efficiency but also places safety at the forefront, fostering a positive cultural ethos among all stakeholders involved in the construction process.
Understanding the workforce for strategic planning
Site managers play a critical role in facilitating the progress of construction projects. In today's changing environment, both technical competencies and interpersonal behaviour have a direct effect on performance. These site managers also occupy a middle management position that operates across organisational boundaries, and requires the coordination of many employees, subcontractors, and external parties. 
Site managers' personal leadership abilities had a stronger correlation with overall construction project performance than project attributes such as complexity or size and building type.
Meanwhile, construction workers play a central role in carrying out a wide range of tasks, many of which are labour-intensive. Due to their hands-on involvement, they have a heightened awareness of negative workplace behaviours, often more so than their managerial counterparts. Detrimental behaviour by colleagues and supervisors can lead to:
Wasting time on preventable tasks
Failing to perform required duties
Failure to raise concerns even when an error is detected
Hesitating to seek guidance from supervisors or managers despite being unsure about completing the task
Blaming others instead of collaborating to solve challenges
If these negative behaviours become entrenched, they can lead to a downward trajectory of poor performance and an unhealthy workplace culture. This poses a direct threat to the safety of workers in this high-risk industry.
Both construction managers and on-site workers are equally important in the construction process. Therefore, the implementation of workforce planning is imperative, and serves as a conduit for achieving operational excellence and improved productivity. This is achieved by orchestrating optimised resource allocation and skilfully aligning the workforce with the dynamic demands of the project.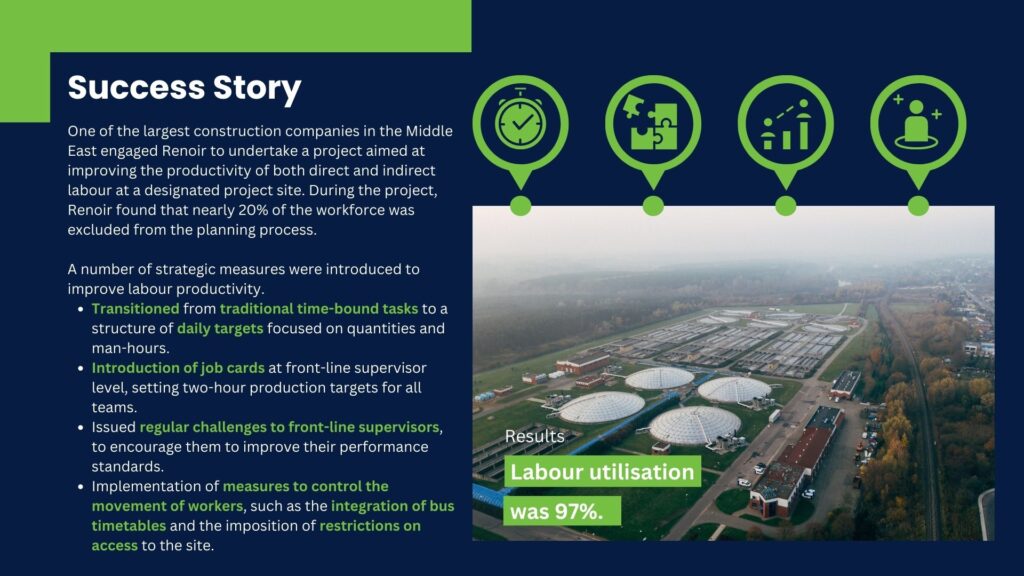 How to transform the construction workplace
1. Cultivate transformational leadership
Fostering a culture of transformational leadership is important in improving the workplace environment in construction. This style of leadership requires persona attention, intellectual stimulation, and motivational inspiration to engage employees without resorting to coercive power. The presence of a transformational leader within the workforce not only improves productivity and profitability, but also fosters a heightened sense of safety among on-site workers.
2. Cultivate behaviour and mindset shifts through effective communication
Effective communication is at the core of the construction industry, a sector that relies on meticulous procedures and protocols. In this context, clear and impactful communication can influence the behaviour and mindset of on-site workers.
To have a transformative effect, a systematic approach is required, a journey that starts at the top and extends to all employees. It begins with training managers and supervisors in essential communication, interpersonal, and team-building skills. Such skills are the foundation for building trusting relationships. It should be approached through the lens of empathy.
Understanding behaviours and mindsets enables supervisors to conduct behavioural assessments, identify areas for improvement, and prioritise the development of specific skills. These insights empower line managers to orchestrate focused actions to manage progress and create lasting change.
3. Create a collaborative culture 
Establishing a collaborative culture has proven to drive operational excellence in construction companies. This collaborative culture includes:  
Cultivating a no-blame environment that encourages people to speak up about mistakes and shortcomings and to seek assistance when needed 
Facilitating an approachable and accessible management structure 
Promoting a culture of consistent and respectful conversation 
Prioritising the importance of effective information dissemination 
According to the Construction Industry Training Board's "'Behaviours, Cultures and Performance in the Construction Industry" research report, the pressure to meet project deadlines has led up to 40% of employees surveyed to compromise on the quality of their work.  
However, the same report shows that 87% of respondents believe that optimal performance comes from collaborative teamwork and planning. In addition, 85% of those surveyed said respecting and trusting each other plays an important role in fostering cohesive collaboration and nurturing interpersonal relationships.  
4. Implement procedural changes  
An often-overlooked aspect of performance management is the implementation of procedural changes. The procedural environment sets the expectations for the behaviour of the workforce.  
At Renoir, we describe the procedural environment as the product of five pillars: strategy, structure, people, processes, and controls. Addressing procedural concerns and developing measurable solutions is an integral part of our proven Focus Process service.  
Changing mindsets and behaviour 
When it comes to implementing a strategy, many organisations tend to look first at improving their technology or processes — overlooking the importance of their own people. 
People are the key. Renoir can support your journey to operational excellence by changing mindsets and behaviours that can facilitate the translation of high-level strategy into practice. 
I need to change the behaviours and mindsets of my people.
Sources:
1. Tabassi, A. A.; Ramli, M.; Dashti, K. F. Transformational Leadership and Team Effectiveness in the Construction Industry. Strategic Leadership Review, Volume 3, Issue 4. Published in 2014.
2. Abdul Rahman, S. H. & et al. The Importance of Collaboration in Construction Industry from Contractors' Perspectives. Procedia – Social and Behavioural Sciences, Volume 129. Published on 15 May 2014.
3. Bayliss, R. Behaviours, Culture and Performance in the Construction Industry. Construction Industry Training Board. Published in 2019.