At a Glance
Creating an organisational chart by adding lines to the boxes or shifting the boxes around can lead to duplication of functions and operational inefficiencies
Companies need to think outside the box when it comes to designing effective business frameworks
There are six outcome-driven elements of reorganisation that companies should consider incorporating into their redesign strategies
When companies set out to redesign or expand their organisation, they often initiate this process by creating new 'box and wire diagrams', primarily aimed at connecting the reporting structure of all employees.
Companies then spend a great deal of management time in subjective debates about what will and what will not. There is much more to effective organisational design than this exercise.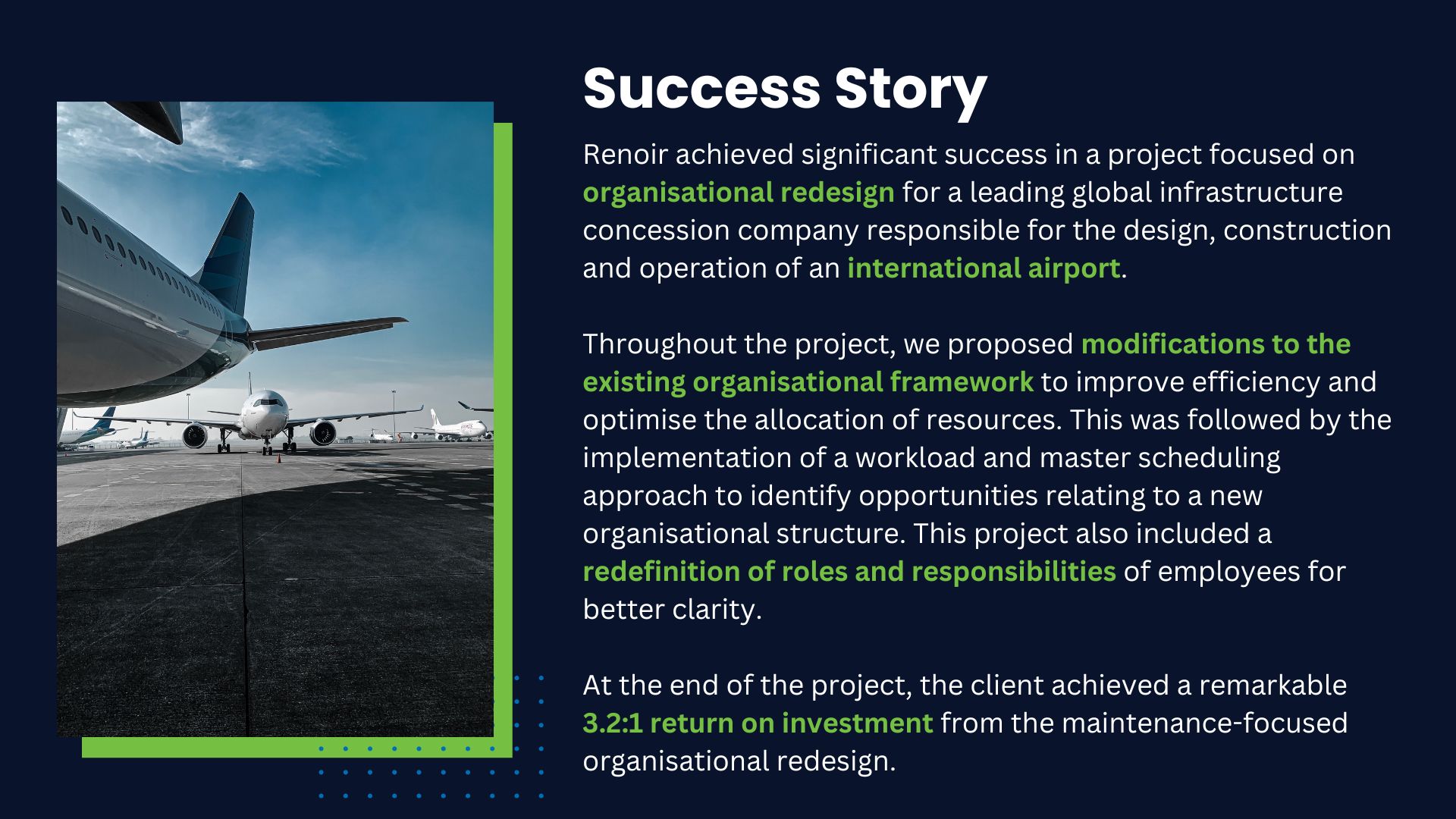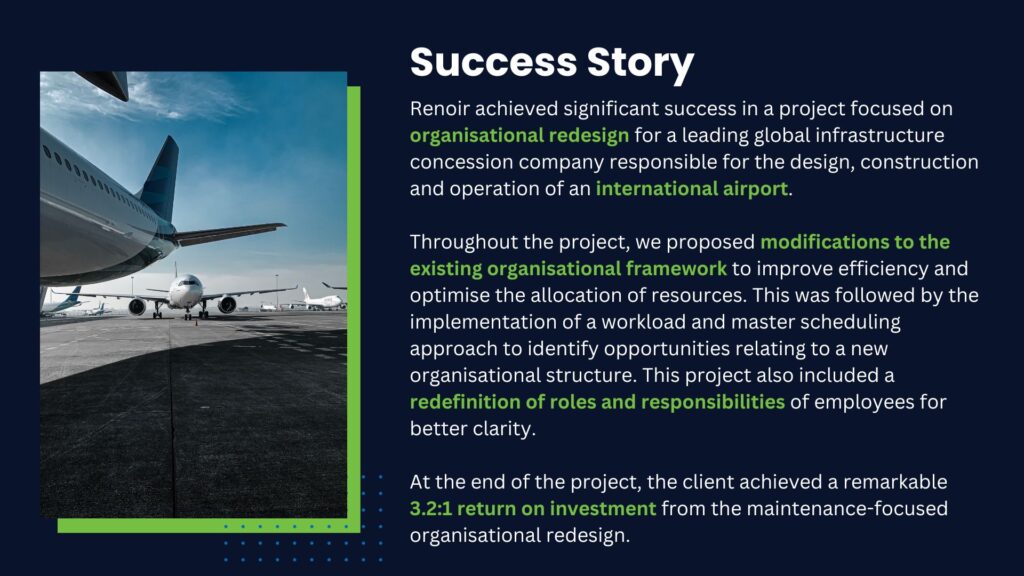 More than boxes and lines
Creating an organisational chart by adding lines to the boxes or shifting the boxes around can lead to duplication of functions and operational inefficiencies. This replication of the chart can result in:
Redundant positions
Duplicated functions
Low productivity
Limited span-of-control
An increased reliance on overtime
In addition, the inability to think beyond the traditional employee flow chart can lead to an unhealthy silo mentality in the workplace. This would hinder smooth collaboration and create a lack of adequate end-to-end ownership.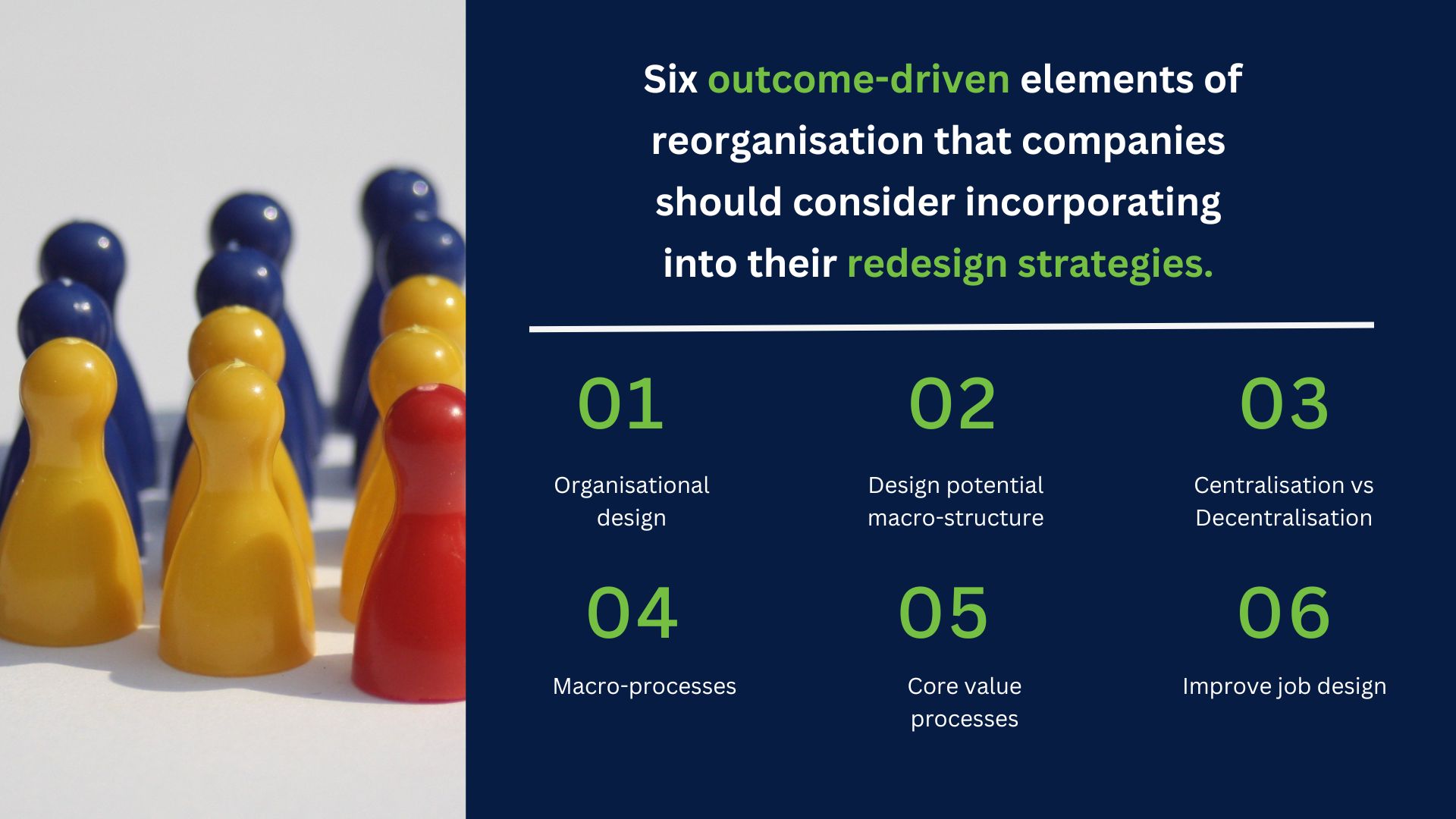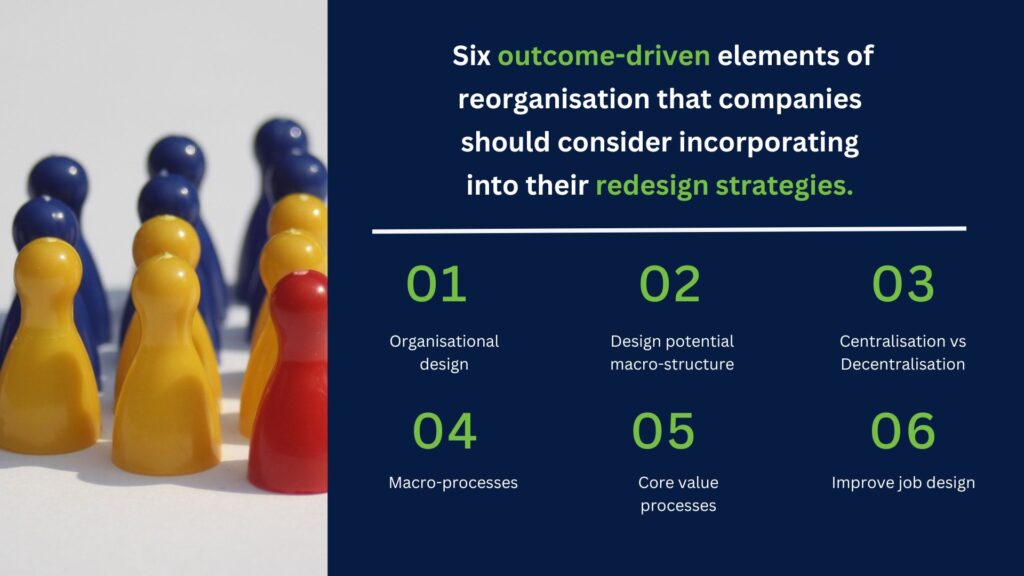 It is evident that companies need to think outside the box when it comes to designing effective business frameworks. Here are six outcome-driven elements of reorganisation that companies should consider incorporating into their redesign strategies.  
1. Organisational design 
The first step in pivoting is to understand the fundamental principles of organisational design. To accomplish this, it is essential to examine the existing organisational structure, consider stakeholder perspectives and review the business strategy. It is at this juncture that building consensus around the design principles becomes crucial for advancing cohesively.  
2. Design potential macro-structure 
In addition to reporting hierarchies, it is crucial to consider the establishment of a macro-level structure. As an organisation expands, the initial compact and flat organisational chart becomes inadequate for effective operational management.  
Using the 'decomposition process', which involves breaking down operational tiers within a larger organisation, can be an effective strategy for managing scalability. 
3. Consider centralisation versus decentralisation 
When redesigning an organisational chart, it is important to consider the merits of centralisation versus decentralisation for your business. For businesses that require external interaction with the supply and demand market, a decentralised approach is often the most suitable.  
Conversely, a centralised approach may be appropriate if the business operates independently within its' industry's market. It should be noted, however, that this approach carries greater risk due to its inherent vulnerability to a single point of potential failure, that could bring the business to a halt.  
4. Macro-Processes 
At this juncture, you should begin to evaluate the strategic priorities of the organisation by verifying the existence of functions and their corresponding macro-processes for each priority. Use the Process Classification Framework to identify any missing elements.  
Keep in mind that improving macro-processes' efficiency requires significant effort, and often yields minimal productivity gains. From an organisational design perspective, the focus is on aligning core value processes with the macro-structure to achieve improved effectiveness, rather than efficiency improvements.  
5. Core value processes 
As an organisation grows, its business processes can become dysfunctional and complex because they have not been designed symbiotically. Rather than addressing structural issues to solve this dysfunction, organisations need to address their organisational culture.  
Organisations can improve their business processes by mapping their core value processes. Core values are the fabric of your brand's culture. They must first be defined, and then accompanied by strategies to ensure that these values are upheld by all employees.  
6. Improve job design 
Improving job design is an often-overlooked aspect of successful redesign. Effective job design looks like an optimised distribution of work, rather than over-simplification and over-division of work.  
Over-simplification can lead to boredom and dissatisfaction and can unnecessarily increase labour costs. When improving job design, managers can do the following to increase intrinsic motivation: 
Job rotation – Allocate human resources to train employees, orientate new employees, and provide career development opportunities. 
Job enlargement – Assign more tasks to a role rather than spreading tasks widely. 
Job enrichment – Create more enriching roles by increasing skill variety, providing feedback, and adding meaning. 
Design effectively, execute effectively  
Business executives need to look beyond traditional organisational charts, identify the root causes of operational challenges, and implement clear strategies to improve the performance of their operating models.  
Achieving sustainable success requires the right strategy, but as importantly, an organisation that is aligned and ready to support the execution of the strategy. 
Renoir has helped companies achieve greater organisational effectiveness through a variety of methodologies including, operating model design, organisational structure development, leadership coaching and management best practice development. 
My company is expanding, and we are looking for guidance and deployment for organisational transformation.