We are running a series on the Carbon Border Adjustment Mechanism (CBAM). This is the second article in the series in which we discuss the impact of CBAM on India's economy, especially when the industries are multifaceted and with a developing background around climate action with limited legislation. We will also look into the challenges and opportunities with the implementation of CBAM, and how industries can align climate change with CBAM as a catalyst for change. Read Part I here. 
At a Glance
Carbon Border Adjustment Mechanism presents a few challenges for India, particularly in its energy-intensive export sectors and metal industry.
If adopted appropriately, it also presents various opportunities for industries in India, from driving emission reductions and innovation to promoting cost efficiency and global competitiveness.
The impact of CBAM on India will depend on the carbon intensity of the exported products and their substitutes in the EU market.
India and CBAM: A Complex Relationship
India, a significant player in global trade, faces both challenges and opportunities with the implementation of CBAM. As a developing nation, India has set an ambitious target of achieving carbon neutrality by 2070. However, the impact of CBAM on India's economy and industries is multifaceted.
Challenges Faced by India
The CBAM presents a few challenges for India, particularly in its energy-intensive export sectors and metal industry. It is expected to have profound implications on India's economic landscape, including increased costs, reduced competitiveness, and potential legal impacts at the global level. These challenges are detailed as follows:
Impact on Energy-Intensive Exports: India exports energy-intensive goods, including steel, aluminium, cement, and fertilizers, which are expected to be significantly affected by CBAM. Increased pricing, reduced competitiveness, and decreased demand for Indian products in the EU market are anticipated outcomes.
Challenges in the Metal Sector: CBAM poses a substantial challenge to India's metal sector, which heavily relies on exports. In 2022, 27% of India's iron, steel, and aluminium product exports went to the EU.
Carbon Tax Implications: Starting from January 1, 2026, the EU will initiate the collection of carbon tax on steel and aluminium consignments. Indian firms are expected to bear a significant financial burden, equivalent to 20-35% of tariffs.
Legal Challenges and Trade Tensions: Given the innovative nature and global implications of CBAM, it is likely to face legal challenges at the World Trade Organization (WTO), which could escalate into trade tensions.
Opportunities for India
CBAM also presents various opportunities for Indian industries if adopted appropriately, from driving emission reductions and innovation to promoting cost efficiency and global competitiveness. It can also generate revenue for government through appropriate investment in sustainable initiatives, market mechanisms and by creating a more environmentally responsible and economically viable industrial landscape. A few opportunities that Indian industry may leverage are as follows:
Market Incentive for Low Emission Products: CABM provides a strong incentive for industries to enter new markets with products that has lower greenhouse gas emission compared to competitors.
Promoting Innovation: Industries will be driven to innovate and develop more efficient and environmentally friendly processes and products to avoid CABM risks.
Cost Efficiency: By investing in emission reduction measures and cleaner energy sources, companies can reduce their material use, energy consumption and operational costs.
Global Competitiveness: Companies that proactively reduce their carbon emissions in response to CABM can gain a competitive edge in international markets. They will be better positioned to meet evolving global environmental standards and consumer preferences for sustainable products.
Level Playing Field: CBAM, creates a level playing field among old and new industries, ensuring that all sectors are held accountable for their emissions. This prevents high emitters from accessing their legacy markets and refrain from supplying emission intensive products.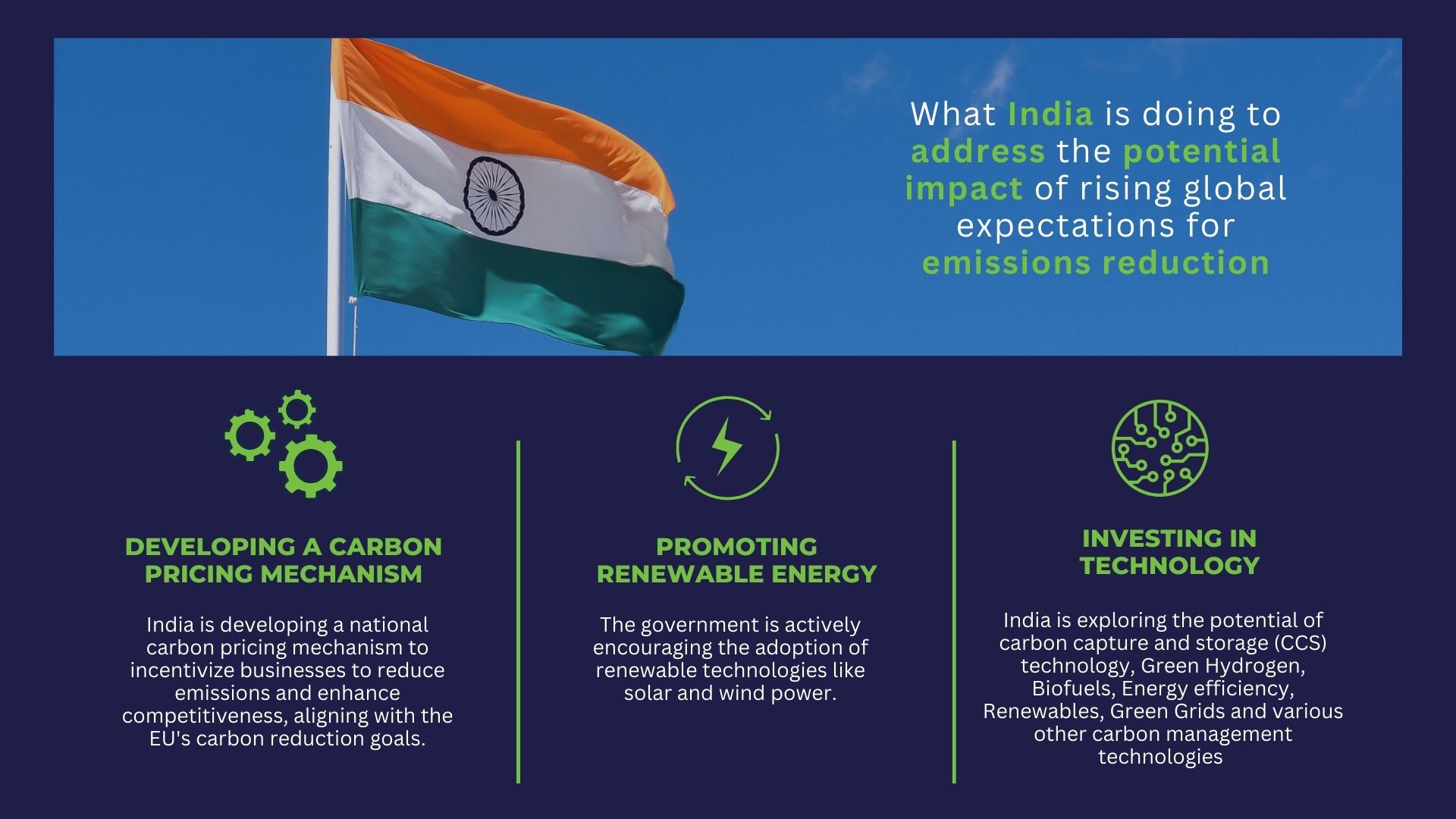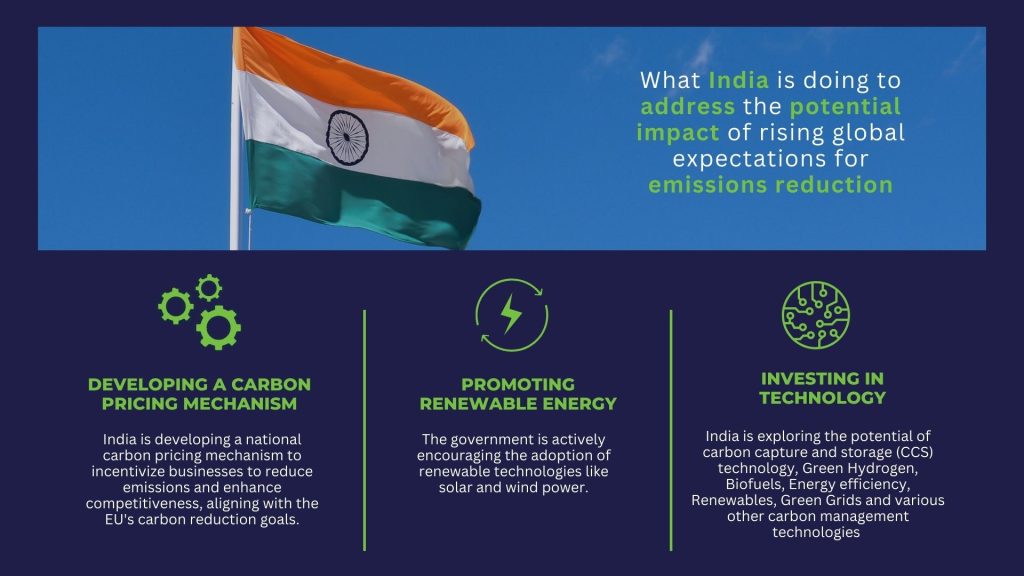 The impact of CBAM on India will depend on the carbon intensity of the exported products, their substitutes in the EU market, and similar products being imported into the EU with a lower carbon intensity. For instance, in steel, Turkey stands to gain a competitive edge over India as Turkey mostly produces steel using electric arc furnace steel production. India is actively working towards addressing the potential impact of rising global expectations for emissions reduction through several strategic measures:
Developing a Carbon Pricing Mechanism: India is developing a national carbon pricing mechanism to incentivize businesses to reduce emissions and enhance competitiveness, aligning with the EU's carbon reduction goals.
Promoting Renewable Energy: India recognizes the importance of renewable energy sources in reducing carbon emissions. The government is actively encouraging the adoption of renewable technologies like solar and wind power.
Investing in Technology: India is exploring the potential of carbon capture and storage (CCS) technology, Green Hydrogen, Biofuels, Energy efficiency, Renewables, Green Grids and various other carbon management technologies to reduce emissions from industry operations.
The Path Forward: Harmonizing Climate Action with CBAM as a catalyst for change
As the world grapples with the need to balance climate action with global trade principles, 2023 will be a critical year. Industries must enhance their preparedness right now to seize opportunities and mitigate risks arising from disruptions like CBAM. Businesses need to critically analyse how CBAM may impact their competitiveness. They need to evaluate how to transition to CBAM compliance with minimal disruption to their operations. At the same time, industries need to strengthen their sustainability objectives and ensure their alignment with the requirements of CBAM and the standards set by their global peers.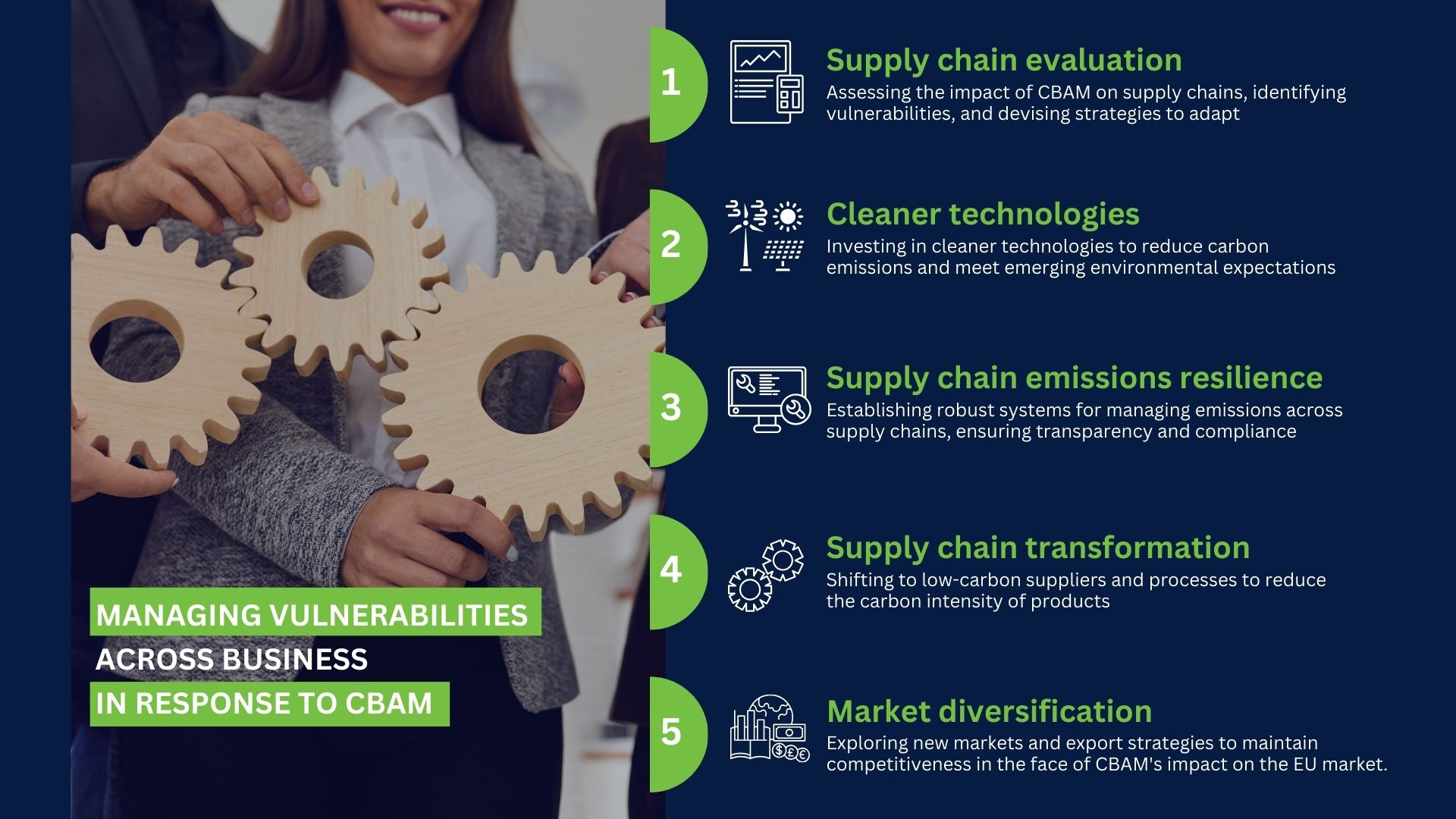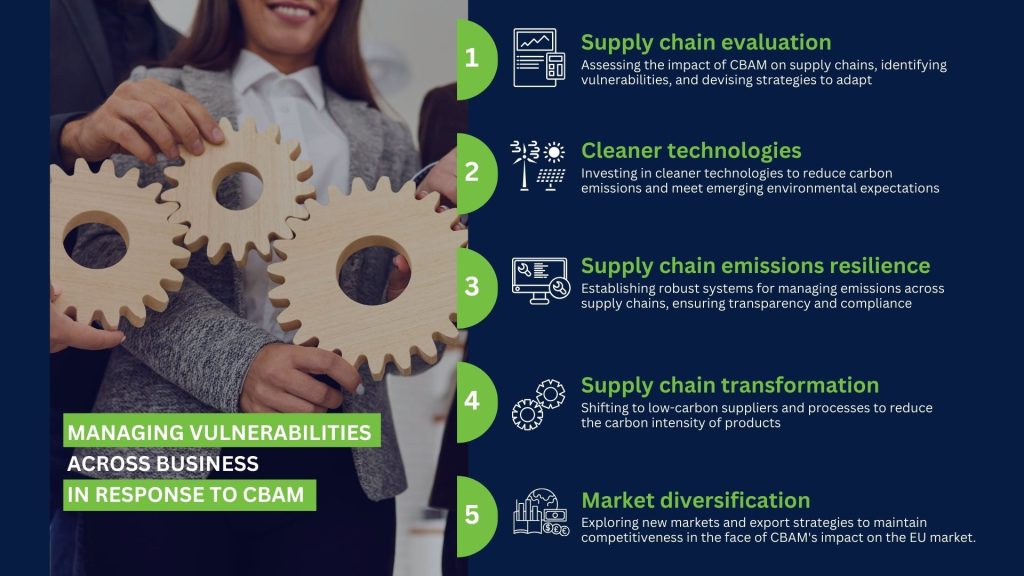 Interventions for managing vulnerabilities across businesses in responding to CBAM requirements include: 
Supply Chain Evaluation: Assessing the impact of CBAM on supply chains, identifying vulnerabilities, and devising strategies to adapt. 
Cleaner Technologies: Investing in cleaner technologies to reduce carbon emissions and meet emerging environmental expectations. 
Supply Chain Emissions Resilience: Establishing robust systems for managing emissions across supply chains, ensuring transparency and compliance. 
Supply Chain Transformation: Shifting to low-carbon suppliers and processes to reduce the carbon intensity of products. 
Market Diversification: Exploring new markets and export strategies to maintain competitiveness in the face of CBAM's impact on the EU market. 
Renoir – your trusted partner for CBAM readiness 
Renoir, as a trusted partner on the Environmental, Social, Governance (ESG) journey, offers a range of expertise and support: 
Strategic and Operational Guidance: We leverage our international expertise to offer precise guidance on CBAM, sharing strategic insights and operational know-how. 
Global Industry Proficiency: Our extensive multinational experience ensures guidance and support across global as well as local supply chains. 
India-Specific Expertise: With deep roots in the Indian market, we're primed to guide and support you within India's supply paradigm and implementation programming. 
Contract Due Diligence: We excel at setting up and reviewing contract clauses to facilitate essential information exchange, vital for robust monitoring and reporting, especially in the Indian context. 
Process Improvement and Decarbonization: We tailor solutions to boost emission performance, addressing India's unique challenges while considering global perspectives. 
Capacity Building and Training: Our training initiatives cover various ESG aspects, benefiting all levels of your organization, both in India and on a global scale. 
CBAM represents a seismic shift in the landscape of global trade and climate action. CBAM is expected to act as an accelerator in transforming global supply chains towards a circular economy and as businesses and countries prepare to navigate this transformative change, Renoir stands ready to facilitate their journey towards a sustainable future. Renoir is your direct and impactful partner for CBAM readiness in India, to help you navigate this transformative landscape efficiently and effectively.
This article is written by Jagpreet Walia.   
Imad Alfadel is the Managing Partner ESG Practice at Renoir Consulting. With over two decades in the financial and consulting sectors, Imad has been supporting companies in enhancing their ESG performance. Through a hands-on approach at Renoir, he supports clients in realizing their ESG ambitions and transforming them into tangible results.  
Jagpreet Walia is Partner ESG at Renoir Consulting. As a techno-strategic expert, he has experienced working with clients across emerging and developed markets, leading sustainability, green finance, adaptation, climate risk and decarbonization programs across public and private sectors. His expertise to empower businesses to thrive with collaboration and innovation helps in delivering sustainable impactful results.
If you need help to work closely with Renoir to understand and assess the impact of CBAM throughout our supply chain