At a Glance
In a time of change, organisations need to be prepared for change, whatever it may bring
A robust business strategy cuts across all elements of your organisation, including people, systems, structure, skills, culture, sales, and operations. 
There is no simple, one-size-fits-all strategy that will guarantee success in unpredictable circumstances, as it is a complex topic
Disruption is a constant.
The pandemic was the initial blow, followed by an economic downturn, record inflation, unpredictable weather patterns, labour shortages, and shifts in global policies.
In view of these tumultuous market conditions, is it pointless to have a business strategy that includes initiatives and activities for your business to achieve desired goals?
For example, the just-in-time (JIT) supply chain, a concept that originated from the Japanese management philosophy, has been a competitive business strategy for decades. However, this landscape changed when the pandemic hit.
Suddenly, shelves were empty, exposing the risks of overreliance on JIT, prompting organisations to question the viability of the strategy. Following this disruption, nearly two out of three companies (64%) in the United States are reported to be moving away from a JIT supply chain to a "just in case" supply chain by increasing the amount of inventory they store.
As organisations begin to question the viability of JIT, you may be asking – is there any rationale for investing time and resources in creating new strategies that could quickly become obsolete when your business is faced with the worst of times?
Why is business strategy still relevant today
This is a time of change. As such, organisations need to be prepared for change, whatever it may bring. Adopting a strategy that communicates and guides the purpose and objectives of the business to senior executives and employees provides clarity on where and how they should focus their efforts.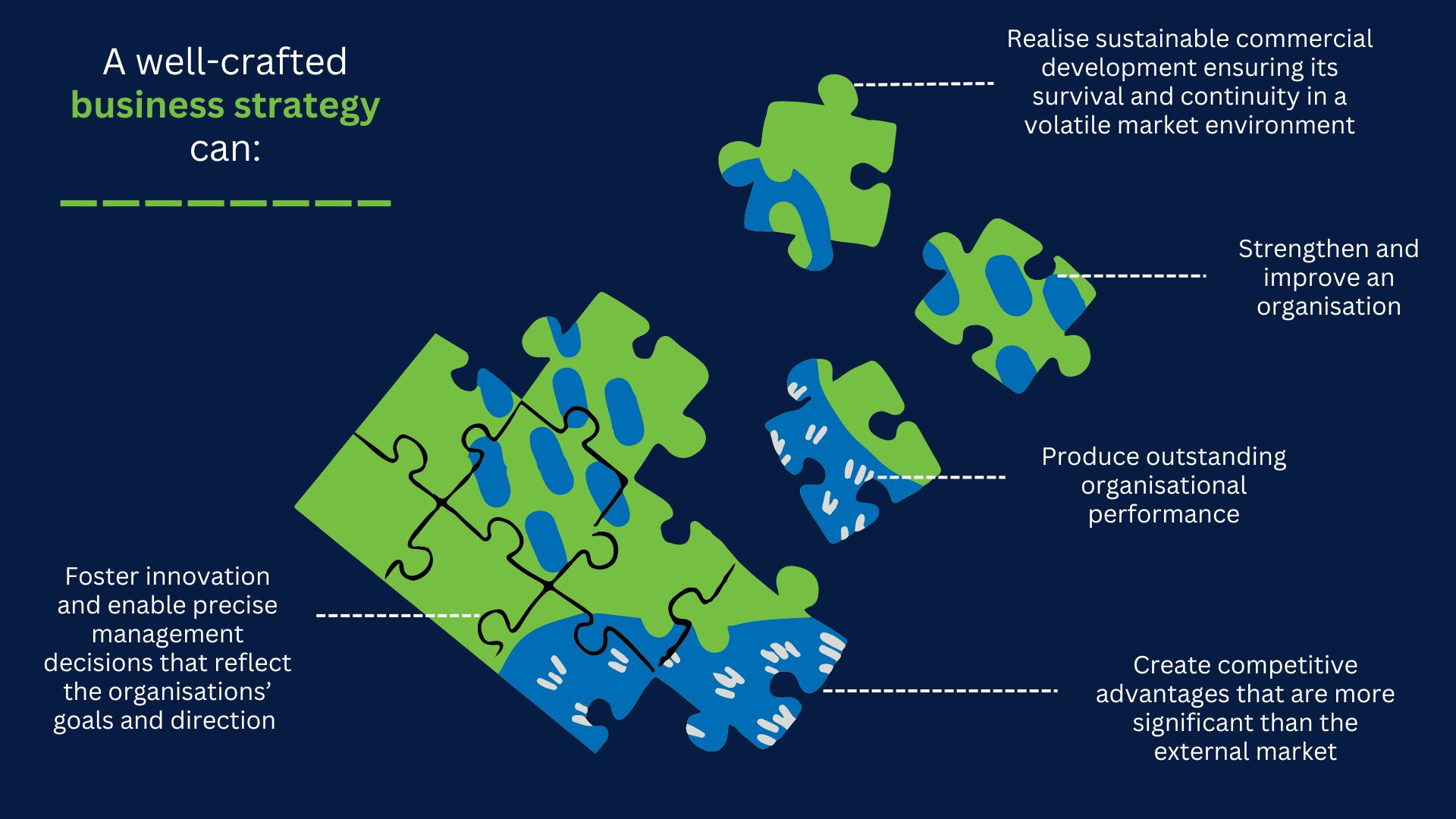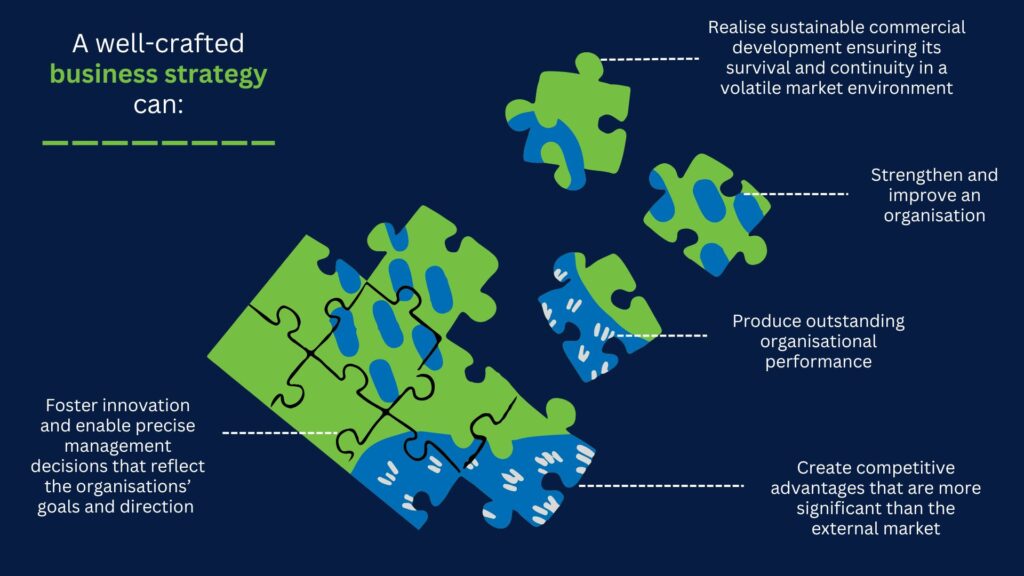 With numerous strategic frameworks, some of which overlap and lack clear sequencing, bushwhacking a path through the weeds can be overwhelming.
This article demystifies the intricate business strategy process and presents it in its simplest form. Crafting a clear, concise, and actionable strategy is far less complex than untangling a perplexing hairball.
A strategy that adapts to change
Every business needs a unique business strategy. A robust business strategy cuts across all elements of your organisation, including people, systems, structure, skills, culture, sales, and operations. 
Nonetheless, as demonstrated by the shortcomings of the JIT supply chain, your strategy should imbue agility and resilience, enabling you to adapt to shifting customer behaviour and dynamic market conditions.
To this end, strategy is more about what you actually do rather than what you aspire to do. The wartime adage, "No plan survives first contact with the enemy," is as true for businesses as it is for military campaigns. Internal and external forces will affect your carefully outlined strategy.  
Business strategy in 1-2-3 steps 
The cornerstone of effective strategy management is its adaptability. There is no one-size-fits-all method for every business. Your process should be customised to your specific needs. At its core, here's how you can unravel the complications in three distinct phases:   
1. Formulation 
Start developing your functional strategy by conducting a comprehensive analysis of the environment. Use various metrics, data sources, and analytical techniques to ensure an accurate understanding of the current market scenario.   
Diagnose the situation, identify key trends and potential threats, and valuable opportunities that could shape your strategy. Your high-level strategy should be informed by a deep understanding of the industry landscape, competitive dynamics, and forthcoming trends that will impact your competitive advantage.  
Definition involves adding substance to the strategic manoeuvres. The tool required for this phase is the business model, which should have been identified during the analysis phase.  
2. Planning  
The planning phase includes deployment and mobilisation. During deployment, you will formulate goals that serve as clear statements of intended outcomes that are directly aligned with your overarching strategic vision and mission. These goals should then be translated into actionable strategic objectives — specific, quantifiable targets that guide operational and tactical activities and can be measured against key performance indicators (KPIs).  
In the mobilisation phase, it is essential to create a detailed operational plan. Assemble a team that includes experts from relevant functional areas, bringing together a diverse range of skills and perspectives to facilitate holistic problem-solving and decision-making.  
Adequate management attention and resources, including financial, human, and technological aspects, should be allocated to ensure that the initiatives can be implemented effectively and sustainably. 
3. Execution 
Execution is where business strategies either flourish or falter. No matter how meticulously your strategy has been developed, it requires adept project management, change management, and periodic evaluations to accommodate any strategic deviations.  
Hands-on experience outweighs written resources 
Stakeholder management is a fundamental aspect that supports every stage of strategy management. When working with strategy, stakeholder management should be at the forefront throughout the entire process.  
Strategy is a complex, nuanced topic due to the unique challenges that each business must overcome. There is no simple, standardized formula that guarantees success amidst unpredictable circumstances.  
While there is a wealth of material on strategy, whether it is complex or oversimplified, written material cannot replace expertise. At Renoir, we deliver real outcomes and sustainable results by helping you unlock your full potential.  
We will analyse how your company can most effectively improve its strategy across your value chain and work with you to design a practical programme to implement solutions that drive value.
Is your current strategy is not delivering the growth or efficiency you want?
Sources:
1. New Research Forecasts the State of US Supply Chains in 2023. Newsbyte by SAP News. Published October 24, 2022.
2. Business Strategy and management method on the example of Samsung. Mirta Radic in International Journal of Contemporary Business and Entrepreneurship (Vol II). Published in 2021.
3. The role of business strategy to create a competitive advantage in the organisation. Abdulwase, R. & et. al. in Open Access Journal of Science. Published in October 26, 2020.