At a Glance
ESG concept is a valuable tool for accelerating the shift to a more sustainable future through a digital transformation approach
The value of digitalisation extends beyond economic gains, encompassing social and environmental benefits
Effective governance requires the integration of sustainability within its structural framework
Digital transformation and Environmental, Social, and Corporate Governance (ESG) issues are both hot topics at the moment. At first glance, digital transformation and ESG may seem like two different concepts, but they share common ground. 
Digital transformation transcends the mere integration of cutting-edge technologies. It has a long-term impact on the business model, production processes, and employment practices. By leveraging technology, companies can drive ESG performance, making both digital transformation and ESG mutually reinforcing.
Within this context, the ESG concept emerges as a valuable tool for accelerating the shift to a more sustainable future through a digital information approach.
Beyond economic value: creates sustainable value
Most discussions about the impact of digital transformation revolve around economic value, primarily on business performance. However, the value of digitalisation extends beyond economic gains, encompassing social and environmental benefits too.
Improves supply chain traceability
The application of digital and smart technologies to overall operations management and business processes, enhances supply chain traceability, which is a fundamental aspect of ESG transformation.
Blockchain, for example, provides a secure record of supply chain data — from transaction-related data to suppliers' information and country of origin, among others. As such, digital technologies such as blockchain provides an opportunity to support the creation of more sustainable supply chains by increasing the transparency of tracking complex variables related to ethical sourcing, responsible production methods, and fair labour practices.
Improves reporting and strengthens governance
Companies can effectively improve their ESG data collection and reporting with the right digital technology. Digital technologies such as cloud-based analytics and software platforms can be used to centralise and streamline data collection, making it easier to track and manage ESG initiatives.
Advanced data analytics allow companies to build a comprehensive picture of their ESG performance. The data can help identify trends and anomalies, thereby providing an opportunity to identify areas for close monitoring and improvement.
The data collected also provides an overview of the company's annual sustainability performance in line with the International Integrated Reporting Council (IIRC) framework, the International Financial Reporting Standards (IFRS) sustainability disclosure standards, and the Global Reporting Initiative (GRI) standard. The data presented in the sustainability report demonstrates that a company is integrating ESG practices into its operations.
Drives innovation for sustainability
Digital transformation is a powerful tool to accelerate sustainability. Take for example, artificial intelligence (AI)-powered analytics can optimise a company's operations by identifying energy-efficient opportunities to achieve the desired operational parameter.
The analytics will continuously look for operational configurations that deliver the same production output using less energy, thereby, reducing emissions. Companies can also use digital technologies within their operations to optimise routing using real-time traffic information. These changes can reduce the overall carbon footprint.
Enhances social impact and stakeholder engagement
Stakeholders, such as investors, customers, employees, and communities, among others, are increasingly looking for companies that are transparent about their ESG performance. It is therefore critical to prioritise in social impact and stakeholder engagement in ESG initiatives.
Digital transformation enables companies to connect and build trust with stakeholders. Companies can use digital tools to communicate and share information about their sustainability goals, social responsibility initiatives, and corporate governance practices, to inform stakeholders about the company's current ESG performance.
The availability of online platforms and digital tools also enables companies to facilitate collaboration with stakeholders (particularly in the communities in which they operate) on ESG initiatives. These tools facilitate collaboration and encourage discussion to find solutions to address challenges.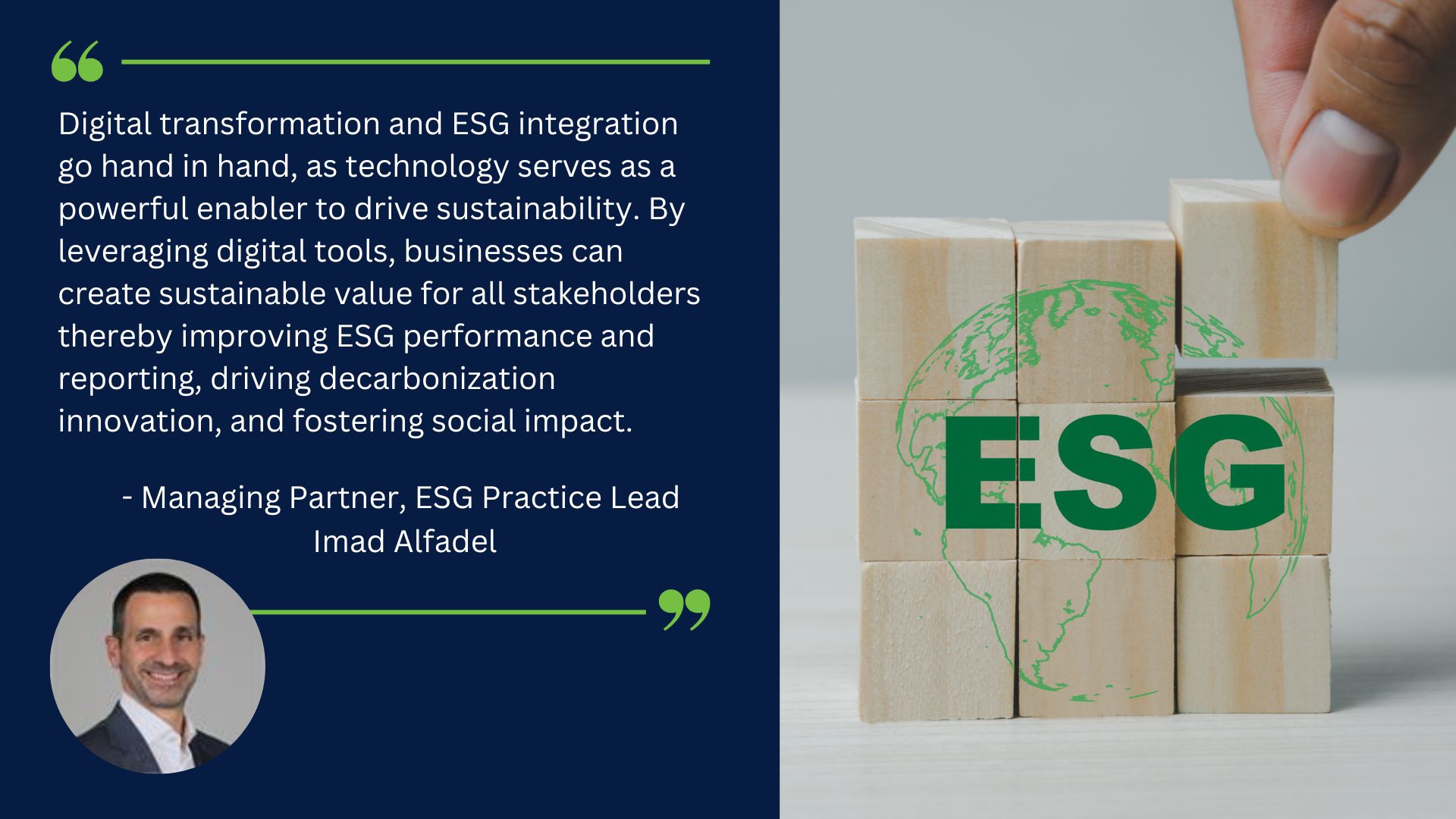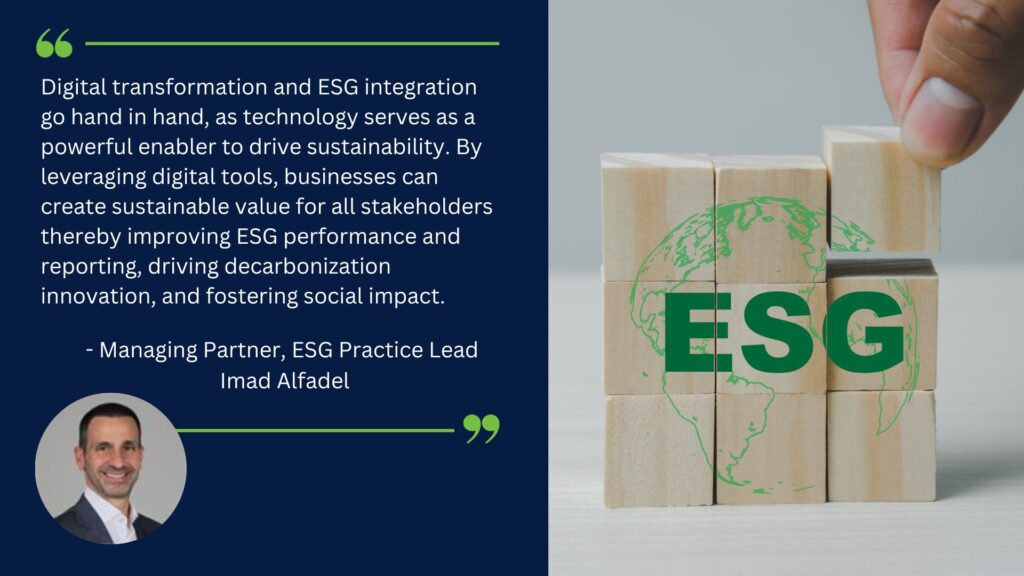 A multifaceted ESG transformation  
Looking at the "E" in ESG, enhancing a company's environmental performance involves reducing energy, water consumption, and waste. A key initiative in this regard is a shift to a circular workplace.  
Delving into the "S" in ESG, bolstering a company's social performance entails creating meaningful employment and prioritising the well-being of employees. This can be done by ensuring that a company integrates diversity, inclusion, and equality as part of its values as well as its HR's policy and programmes. A company needs to ensure it has a fair appraisal system, provides equal opportunity to all to reach their ambitions, and that it caters to their overall well-being.  
Looking at the "G" in ESG, effective governance requires the integration of sustainability within its structural framework. This ensures a high level of accountability and transparency.  
Turning opportunities into measurable results 
The sustainability journey is constantly evolving, as best practices and new technologies emerge. Businesses need to stay ahead of the curve and carefully plan the approach, including the use of digital transformation, to enhance ESG performance and allow companies to effectively align their business practices with their sustainability goals.  
From strategy to reporting, Renoir offers end-to-end ESG transformation services to help you turn opportunities into measurable results. 
Ready to integrate digital transformation into your ESG endeavour?